4th Grade Folder Artwork Submission
Thank you for your interest in the 4th Grade Folder program. The artwork submission has been closed.
Questions?
Diane Higgins
School Based & Educational Programs Coordinator
973.275.7985
diane@drugfreenj.org
If you would like to order folders for your classroom(s) please click here.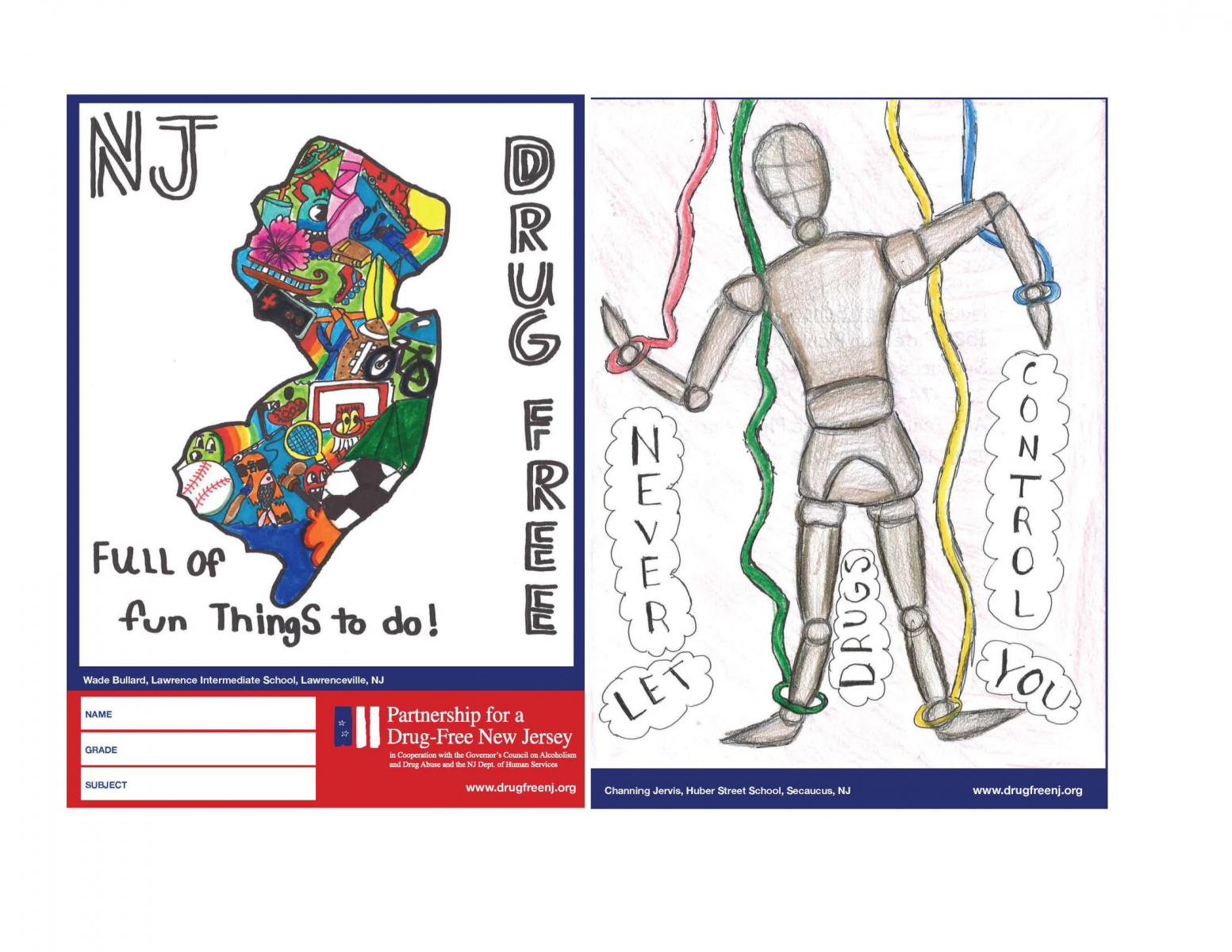 The Partnership for a Drug-Free New Jersey is excited to announce the 2020-2021 finalists in the Fourth Grade "Fun Things To Do Instead of Drugs" folder artwork contest! The task of selecting the finalists from hundreds of entries was extremely difficult, and in our eyes, each student who spent time creating their peer-to-peer artistic prevention message is a winner!!
The artwork of the two grand prize winners will be featured on the 2021 Fourth Grade Folders that will be distributed in the Fall. Teachers can request folders for their Fall 2021 students by visiting: drugfreenj.org/fourth-grade-folders
2020-20201 Fourth Grade Folder Artwork Contest Finalists
| | | |
| --- | --- | --- |
| Student | School | School City |
| Bruno Nicola Altamirano | Lafayette Township School | Lafayette |
| Ryan Bonhard | Joseph T. Donohue School | Barnegat |
| Giulianna Braxton | Lavallette School | Lavallette |
| Alexandra Cosentino | Manasquan Elementary School | Manasquan |
| Victoria Creamer | St. Mary School | Vineland |
| Kendall DeBari | B.F. Gibbs Elementary School | New Milforfd |
| Raizen Decena | Alan B. Shephard School | Old Bridge |
| Milana DeMaria | St. Mary School | Vineland |
| Johnna DiCosta | F.N. Brown School | Verona |
| Kate Facchini | St. Francis Academy | Union City |
| Kiera Fiedler | Alan B. Shepard School | Old Bridge |
| Zoey Gardner | Raritan Valley School | Hazlet |
| Katie Hale | Aaron Decker School | Butler |
| Jamie Jackwicz | Manasquan Elementary School | Manasquan |
| Lorenzo Lamberti | Raritan Valley School | Hazlet |
| Christian Laroche | St. Joseph School | Carteret |
| Giavanna Lattanzi | Alan B. Shephard School | Old Bridge |
| Jack Macaluso | St. Mary School | Vineland |
| Alyssa Martucci | Saint Peter School | Point Pleasant Beach |
| Michael McCabe | James A. McDivitt School | Old Bridge |
| Laasya Mummidi | Nicolas Copernicus School - PS#25 | Jersey City |
| Fabia Naranjo | Huber Street School | Secaucus |
| Rudra Patel | Nicolas Copernicus School | Jersey City |
| Ellie Planche-Odry | Saint Francis Academy | Union City |
| Kavin Rajesh | Nicolas Copernicus School PS# 25 | Jersey City |
| Liliana Shaw | St. Mary School | Vineland |
| Ella Shikhman | E. A. Bogert School | Upper Saddle River |
| Brooks Strohmeyer | E. A. Bogert School | Upper Saddle River |
| Sophia Stuart | St. Therese School | Succasunna |
| Jameson Studer | Holy Trinity School | Westfield |
| Nathan Tenev | St. Mary School | Vineland |
| Michelle Waldbaum | E. A. Bogert School | Upper Saddle River |
| Lu Zhu | Saint Peter School | Point Pleasant Beach |