NJ Unites Against a Crisis: 8th Annual Knock Out Opioid Abuse Day Set for 10/6
9/22/2023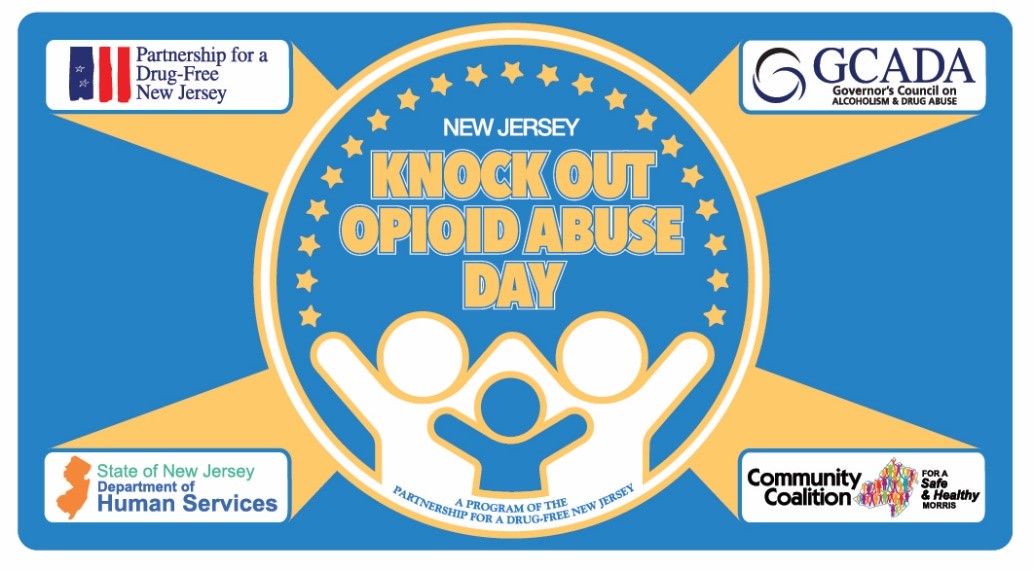 FOR IMMEDIATE RELEASE: September 22, 2023
Contatc: Lisa Batitto, news@drugfreenj.org
 
New Jersey Unites Against a Crisis:
Eighth Annual Knock Out Opioid Abuse Day Set for October 6
 
MILLBURN, NJ – New Jersey is presenting a united front against the opioid epidemic as communities across the state gear up for the eighth annual Knock Out Opioid Abuse Day on Friday, October 6.
This initiative, led by the Partnership for a Drug-Free New Jersey, provides essential information to healthcare professionals, community leaders and families, highlighting the risks associated with prescription opioids and effective strategies for preventing their misuse. Counties are preparing a range of activities and initiatives tailored to their residents' needs.
In 2022, nearly 3,000 New Jersey residents died from drug overdoses, with opioids playing a significant role in most of these fatalities. The epidemic has taken its toll through the use of heroin, prescription opioids and synthetic opioids like fentanyl.
"Knock Out Opioid Abuse Day presents a crucial opportunity to educate New Jersey residents about the opioid epidemic and empower them to safeguard their families, friends and neighbors," said Angelo M. Valente, executive director of the Partnership for a Drug-Free New Jersey.
Knock Out Opioid Abuse Day is held in partnership with the Governor's Council on Alcoholism and Drug Abuse, the New Jersey Department of Human Services, the Division of Addiction Services, and the Community Coalition for a Safe and Healthy Morris. The New Jersey Senate and General Assembly unanimously passed legislation designating October 6 as Knock Out Opioid Abuse Day in the state, an initiative signed into law by Governor Phil Murphy.
In addition to the county efforts, the Knock Out Opioid Abuse Day Learning Series, inaugurated in 2020, offers New Jersey residents the opportunity to gain insights from experts specializing in opioid addiction. As part of this year's learning series, a webinar titled "Knock Out Opioid Abuse Day: An Update from NIDA" will occur at 11 a.m. Friday, October 6. Dr. Wilson M. Compton, Deputy Director of the National Institute on Drug Abuse (NIDA) of the National Institutes of Health, will be the featured speaker.
For resources and further information about Knock Out Opioid Abuse Day, visit knockoutday.drugfreenj.org.
###
Best known for its statewide anti-drug advertising campaign, the Partnership for a Drug-Free New Jersey is a private not-for-profit coalition of professionals from the communications, corporate and government communities whose collective mission is to reduce demand for illicit drugs in New Jersey through media communication. To date, more than $200 million in broadcast time and print space has been donated to the Partnership's New Jersey campaign, making it the largest public service advertising campaign in New Jersey's history. Since its inception the Partnership has garnered 217 advertising and public relations awards from national, regional and statewide media organizations.