PDFNJ Honors International Overdose Awareness Day by Encouraging Involvement in Knock Out Opioid Abuse Day
8/31/2021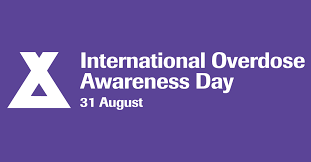 FOR IMMEDIATE RELEASE: August 31, 2021
Contact: Natalie Golub, 973-382-4560, natalie@drugfreenj.org 
PDFNJ Honors International Overdose Awareness Day by Encouraging Involvement in Knock Out Opioid Abuse Day
MILLBURN— The Partnership for a Drug-Free New Jersey (PDFNJ) honors International Overdose Awareness Day today and remembers those who we lost to drug overdose by encouraging all New Jersey residents to get involved and help to raise awareness about the dangers of opioids as part of this year's Knock Out Opioid Abuse Day on October 6.
Knock Out Opioid Abuse Day is designed to shine light on the opioid crisis impacting thousands of New Jersey residents and families. In 2020, more than 3,000 people in New Jersey died of a drug overdose, a majority of which involved some form of opioid. Additionally, there have been 5,568 Naloxone administrations and 1,626 suspected overdose deaths from January – June 2021. The pandemic is making the disease of addiction even more dire with overdose deaths up 42 percent from earlier this year
 "It is more important than ever that we educate New Jersey residents and the community about the dangers associated with opioids," said Angelo Valente, Executive Director of PDFNJ. "The way to prevent overdoses begins with raising awareness and educating people about the link between prescribed opioids and heroin and fentanyl overdoses deaths in New Jersey and throughout the country."
To learn more about Knock Out Opioid Abuse Day please visit http://knockoutday.drugfreenj.org/; view the Training Webinar to learn how to get involved; visit the toolkit  for sharable messages, and sign up for this year's Knock Out Opioid Abuse Day Learning Series Webinar: How You Can Help Fight the Opioid Epidemic at 11 a.m. on October 6 featuring Jamie Mells, PhD, Lieutenant Commander, U.S. Public Health Service Overdose Data to Action Coordinator, Centers for Disease Control and Prevention
In its sixth year, Knock Out Opioid Abuse Day in New Jersey, designated by Governor Murphy as a permanent day of prevention education and awareness, is a statewide project that is created by PDFNJ; The Governor's Council on Alcoholism and Drug Abuse; the New Jersey Department of Human Services, Division of Addiction Services; and the Community Coalition for a Safe and Healthy Morris, with help from partners across the state.
# # #
The Partnership for a Drug-Free New Jersey is a private not-for-profit whose mission is to educate New Jerseyans, especially young people, about substance use prevention. The Partnership's public service advertising campaign is the largest in New Jersey history, earning 190 awards and more than $200 million donated in print space and broadcast time.