Two Bergenfield Elementary Students Selected as Grand Prize Winners of PDFNJ's Fourth Grade "Fun Things to Do Instead of Drugs" Artwork Contest
10/26/2022

FOR IMMEDIATE RELEASE: October 26, 2022
Contacts: Natalie Golub, 973-382-4560, natalie@drugfreenj.org
Two Bergenfield Elementary Students Selected as Grand Prize Winners of
PDFNJ's Fourth Grade "Fun Things to Do Instead of Drugs" Artwork Contest
First Time in Contest's History Winners Selected from the Same School
 
BERGENFIELD, NJ — Two students at Hoover Elementary School in Bergenfield were selected as co-winners of the Partnership for a Drug-Free New Jersey's (PDFNJ) Fourth Grade "Fun Things to Do Instead of Drugs" Artwork Contest.  This is the first time in the contest's 20-year history that two winners have won from the same school.
Sean Arrieta and Kristen Williams, the grand prize winners, were selected from the nearly 3,000 submissions and 33 finalists to have their artwork featured on 40,000 pocket folders distributed to classrooms throughout the state for the 2022-2023 school year.
"The Partnership for a Drug-Free New Jersey's Fourth Grade Artwork Contest is a great way for students to creatively express themselves while encouraging them to lead a healthy lifestyle," said William Fleming, Principal at Hoover Elementary School.  "It was a such thrill to have both winners come from our school this year."
Each year, PDFNJ challenges fourth grade students throughout New Jersey to create anti-drug artwork related to the theme "Fun Things to do Instead of Drugs", with the winning artwork to be reproduced as a school folder.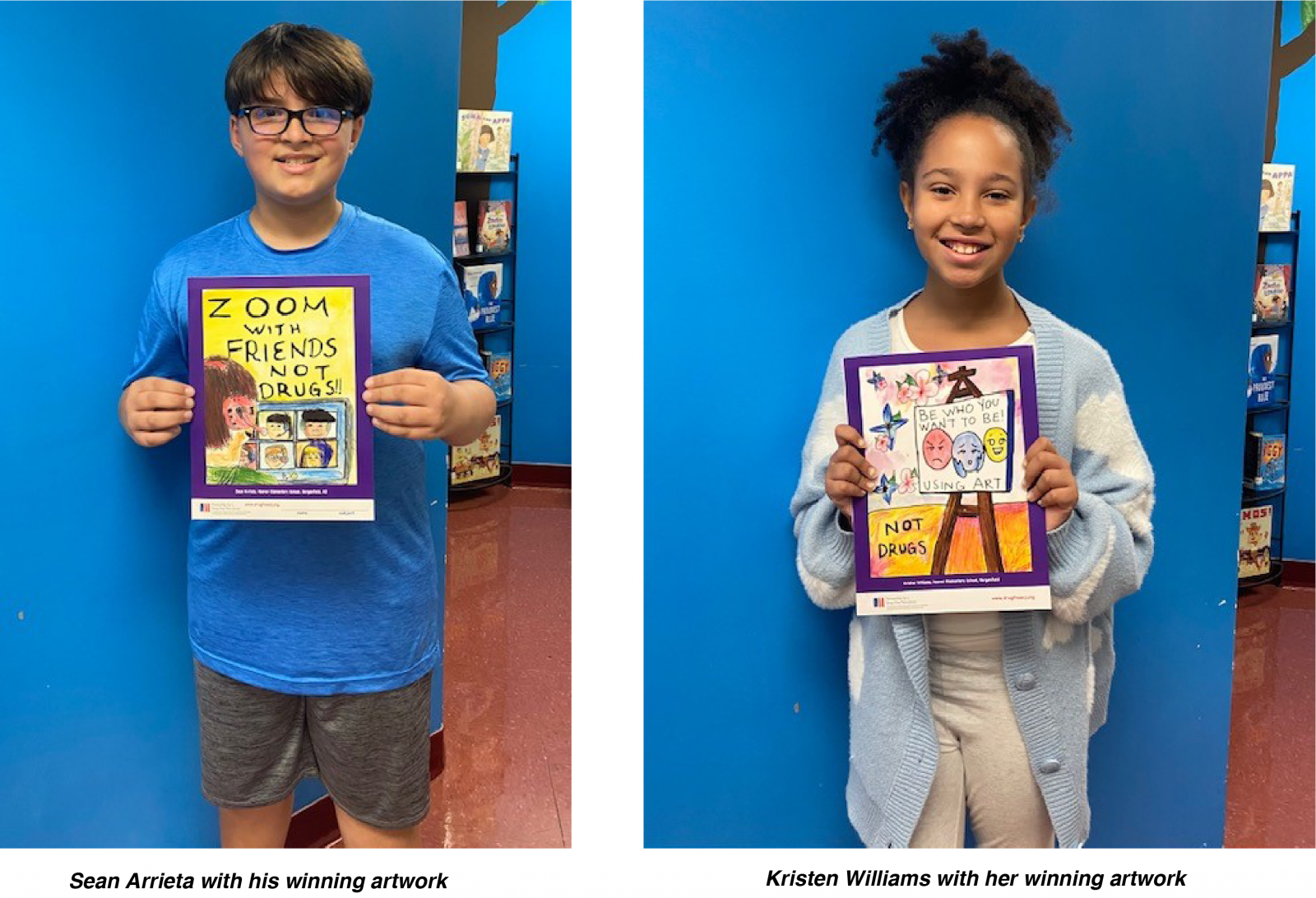 "The Partnership for a Drug-Free New Jersey's school-based programs like the Fourth Grade Artwork Contest are an effective way to actively engage today's youth in choosing and maintaining a drug-free healthy lifestyle," state Angelo Valente, executive director of PDFNJ. "This peer-to-peer substance use prevention artwork is an impactful way to combat peer pressure and for students to creatively share what a healthy lifestyle means to them."
PDFNJ's Fourth Grade Folder Artwork Contest is underway this year and is accepting submissions until December 7. To learn more about the contest and to enter submissions please click here.
###
Best known for its statewide substance use prevention advertising campaign, the Partnership for a Drug-Free New Jersey is a private not-for-profit coalition of professionals from the communications, corporate and government communities whose collective mission is to reduce demand for illicit drugs in New Jersey through media communication.  To date, more than 200 million in broadcast time and print space has been donated to the Partnership's New Jersey campaign, making it the largest public service advertising campaign in New Jersey's history. Since its inception, the Partnership has garnered 217 advertising and public relations awards from national, regional and statewide media organizations.