Do No Harm Symposium Series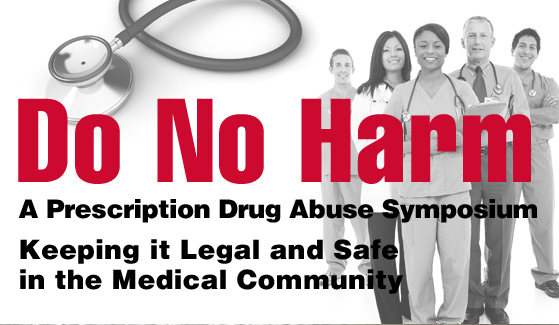 The Do No Harm symposium series provides information to doctors and health systems to help them make better decisions for patients, and to better understand the link between opioid prescription drug abuse and rising heroin abuse.

E.R. Doctors Face Quandary on Painkillers
Dr. Bruce Lobitz, an attending physician in the emergency department at Upstate Carolina Medical Center in Gaffney, S.C., sees about 10 patients a week complaining of toothaches. "The bane of our existence," he calls them.
"Almost all dental patients request a prescription for narcotic pain pills," Dr. Lobitz said. " 'I just need something to tide me over until I can see a dentist' — that's the classic line." Sometimes, drug-seekers will show their cards: "They'll say they're allergic to everything except Vicodin."It's not just that doctors like him lack the training and tools to solve their dental problems. Many of these patients, he fears, complain of tooth pain simply as a ruse to get prescriptions for narcotics.
Dental patients — mostly uninsured or indigent — are not unusual in emergency rooms. Poor patients may forgo preventive care and delay treatment until they face a medical crisis. In many states, adult dental benefits under Medicaid, the government insurance program for the poor, have been scaled back or eliminated. And dentists often don't accept Medicaid patients.
But emergency physicians like Dr. Lobitz cannot know whether someone who claims to be in agony from dental issues is telling the truth — or simply plans, he said, to "go to the next emergency room, next town over, and get another 30 Vicodin."
Dr. Gail D'Onofrio, chairwoman of the emergency medicine department at Yale School of Medicine, has studied alcohol and drug abuse in emergency rooms. "The overuse of narcotics is a huge problem, and when a patient presents, especially for dental pain, it's difficult to make an objective assessment," she said. "It puts the physician in a difficult situation to assess whether or not someone truly needs pain medications. We err on the side of treating pain, and it is a huge potential for abuse."
The frequent prescription of narcotics in emergency departments for dental pain has been quantified for the first time by research financed by the National Institutes of Health, bringing to light another way opioids get into circulation and contribute to the rampant abuse of painkillers in the United States.
From 1997 to 2007, painkillers were prescribed in three of four visits to the emergency department for dental complaints; roughly half of visits resulted in a prescription for antibiotics, according to a new analysis of the National Hospital Ambulatory Medical Care Survey by Dr. Christopher Okunseri, a practicing dentist and an associate professor of public health at the Marquette University School of Dentistry in Milwaukee.
click to read the enitre article
Previous Do No Harm Symposium Series have included: