Overview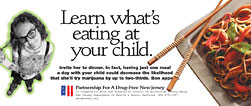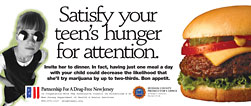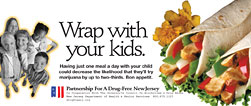 Working with the New Jersey media to "unsell" drugs to the people – especially the young people – of New Jersey continues to be our central responsibility.
The Partnership for a Drug-Free New Jersey (PDFNJ) can and does utilize any and all media and formats to get our message out. PDFNJ communicates with the public through television, radio, and print; billboards; PATH and New Jersey Transit signs; ads in the Yellow Pages, donated by Bell Atlantic; and a host of other non-traditional communication opportunities.
We receive most of our "creative" work from the Partnership for a Drug-Free America which, in turn, works with the top advertising agencies in the nation. PDFNJ does not pay for any advertising time, and we are deeply grateful for the support we have received from the New Jersey media, and other organizations.
Exclusive Feature: Food & Family Campaign
Based on the research of the Partnership for a Drug-Free New Jersey's 2000 Middle School Substance Abuse Survey and expanding on the "Talk Now New Jersey" campaign, the "Food and Family" campaign was created. This initiative is based on the survey results, which found that children who have meals with adults at home are less likely to use drugs. The study found that by having just one meal a day with children, parents could decrease the likelihood that the child would try drugs by up to two-thirds.
The "Food and Family" campaign is a multi-media public service announcement (PSA) initiative. "Food and Family" PSAs, which were honored by the advertising communities of New Jersey and Philadelphia, are seen on bus and train signs on New Jersey Transit and PATH trains. Cause-Related Marketing has helped to expand this campaign, as grocery stores in the state have agreed to post the PSAs in their store windows and hundreds of thousands of grocery bags. Tuscan Dairies has agreed to place the PSAs on milk cartons for distribution throughout the state, as well. The Community Savings Book of New Jersey, with a circulation of over 100,000 coupon books, is currently running "Food and Family" PSAs. The campaign is also featured on litterbags, highway signs, billboards, and Division of Motor Vehicle inserts, as well as in print newspaper ads.