Chasing the Dragon: Prescription Drug Abuse and Heroin Prevention Training Session
9/13/2016

Press Release
For Immediate Release
Angela Conover: conover@drugfreenj.org, 201-916-1030
David Philemon: media@drugfreenj.org, 973-467-2100 x24
Chasing the Dragon: Prescription Drug Abuse and Heroin Prevention Training Session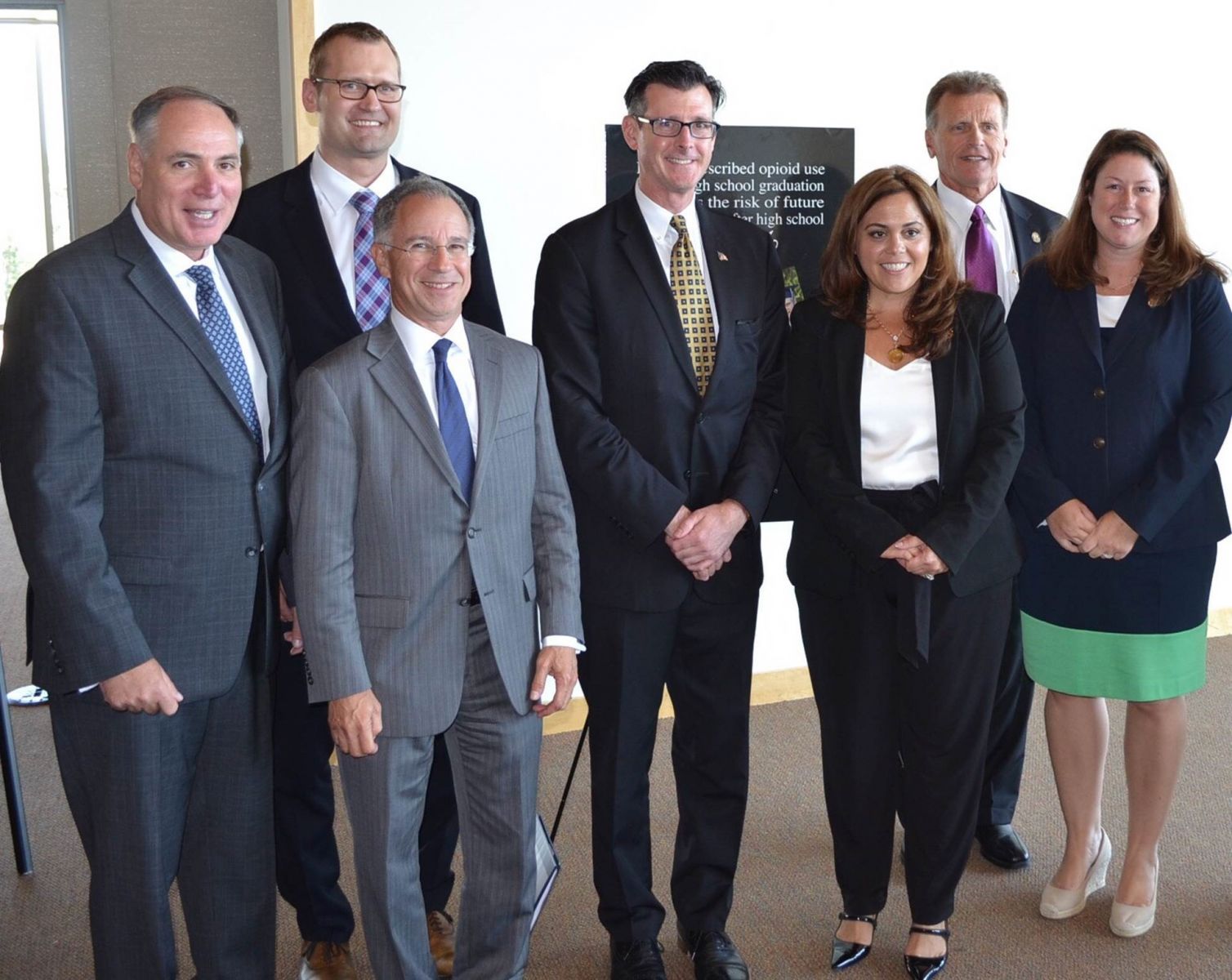 Pictured (l-r, front) Angelo Valente, Executive Director, PDFNJ; Paul Fishman, United States Attorney for the District of New Jersey, Tim Gallagher, Special Agent in Charge, Newark FBI, Hudson County Prosecutor Esther Suarez, Event Moderator, Jenn Davenport, DEA-NJ, (back, left) William J. Holubek MD, MPH, CarePoint Health  and (back, right) Carl Kotowski, Special Agent in Charge, DEA-NJ.  
JERSEY CITY -- A prescription drug abuse and heroin prevention training session was held today at Saint Peter's University, to educate community stakeholders, local law enforcement, and education officials on the ongoing efforts to educate New Jersey's youth and young adults about the perils of heroin and prescription drug abuse.  The event was coordinated by Paul Fishman the United States Attorney for New Jersey, in conjunction with the Newark FBI, Drug Enforcement Administration-New Jersey, Hudson County Prosecutor's office, Partnership for a Drug Free New Jersey, and CarePoint Health Foundation.
Carl J. Kotowski, Special Agent in Charge for the Drug Enforcement Administration's New Jersey Division said, "The purpose of this event is to spread awareness about the continuing epidemic of opiate and heroin abuse in our communities.  We are hopeful that those in attendance will share the message in the "Chasing the Dragon" DVD with youth in their schools and community.  Spreading the message of the dangers of opiate and heroin abuse to the youth is one way to reduce this epidemic."
"During my seven years as U.S. Attorney, we have prosecuted a lot of cases involving heroin trafficking and prescription drug trafficking. But we all know that we will never arrest our way out of this problem," explained Fishman, "So those of us in law enforcement must also lend our voices to the call for education, prevention and quality drug treatment. The cycle of addiction ruins lives throughout our communities without regard to age, race, sex, or economic status. It is also the drive behind every type of crime, putting us all at greater risk. It is up to all of us to bring people together to discuss and publicize this problem and to brainstorm about more effective solutions."
"The opiate and heroin epidemic affects each and every one of our communities. We likely all know someone who has been touched by drug addiction. If this film can save just one person, from getting on the path that leads to opioid abuse, it will be considered a success. We at the FBI and our law enforcement partners' hope that young people will watch this video and realize drug addiction is a very real problem; one that destroys lives every day. We ask that you join us in our fight against this terrible epidemic, and hope that together we can help reduce the devastation caused by it," stated Special Agent in Charge, Timothy Gallagher of the Newark FBI.
As New Jersey battles an opioid abuse epidemic, a recent Partnership for a Drug-Free New Jersey study  found that nearly one in three parents of New Jersey middle school students do not believe there is a link between pain killers prescribed for things like sports injuries and wisdom tooth removal and the rising use of heroin in New Jersey. The study also found that less than 50 percent of parents feel they are knowledgeable about heroin.
"Parents in New Jersey must take heed, prescription drug abuse is happening in our homes and in many cases leading to heroin abuse– unfortunately no family is immune from this epidemic," said Angelo M. Valente, Executive Director of the Partnership for a Drug-Free New Jersey.
William J. Holubek MD, MPH, from CarePoint Health provided attendees an overview of the opiate abuse public health epidemic New Jersey is dealing with, including the risk of patients developing a dependency from a prescribed opiate. "The CarePoint Foundation is pleased to have partnered to bring the Chasing the Dragon training event to Saint Peter's University, today.  This event will continue to make strides in necessary changes in the culture in this state with respect to opioid abuse," stated Paula A. Nevoso, President of CarePoint Health Foundation.
"The use of heroin, and the use and abuse of prescription opioids, continues to be a challenging and costly crisis for the United States, and Hudson County is no exception. This epidemic has tentacles reaching into every neighborhood and every facet of our society leaving a path of destruction wherever it goes," said Hudson County Prosecutor Esther Suarez. "This growing crisis must be attacked and those of us at the Hudson County Prosecutor's Office have committed ourselves to not only enforce drug laws, but to also provide resources to those that need it the most."    
Additional information on Chasing the Dragon is available on drugfreenj.org/chasingthedragon.