pressofatlanticcity.com: Drug overdoses reach beyond 3,000 in N.J. for first time
1/11/2019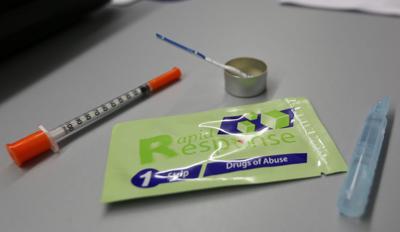 South Jersey AIDS Alliance, based in Atlantic City, offers clients fentanyl strips that can test drug samples for the presence of fentanyl, a synthetic opioid 50 to 100 times stronger than morphine and a leading cause in overdose deaths in New Jersey.
People in New Jersey are still dying from overdoses in extraordinary numbers. While state officials recorded the largest year-end total yet at the end of 2018, the rate of deaths may be slowing.
Preliminary data from NJ CARES at the state Attorney General's Office show 3,163 people lost their lives in drug-related overdoses as of Dec. 30. That's about a 15 percent increase over deaths recorded in 2017, and advocates hope what is being done now will make a difference.
"I think we've made tremendous progress. There's great awareness about this epidemic," said Angelo Valente, executive director of Partnership for a Drug-Free New Jersey.
"It will take time to get to the point when see numbers move in the other direction with less overdoses, less need of Narcan, but we need to be equally diligent to get people access to treatment immediately," he said.
State departments and agencies, law enforcement and first responders, private and public health providers, prevention education agencies and others have rolled out collaborative programs, policies and strategies to address the epidemic.
Just this past year, organizers in Atlantic and Cape May counties launched Hope One mobile addiction outreach vans to bring together resources for struggling residents.
Still, people are dying, but the growth from year to year is slowing, data shows. In the past four years, the year-over-year increases have been between 22 percent and as high as 40 percent.
After seeing a decline in overdose deaths in 2017, state data shows the numbers of deaths have gone back up in 2018 in both Atlantic and Ocean counties. Overdose deaths for 2018 are not yet final and are subject to change.
Atlantic County Sheriff Eric Scheffler said there are many out there working hard to get rid of the stigma attached to getting treatment in the hope that more people seek it.
They're providing such things as the county's Hope One van, which partners with more than 20 other organizations and providers and can help bridge the gaps in access to care and education around addiction by meeting people where they are at in the community, he said.
"Since September, we've gotten about 100 people into treatment," Scheffler said. "We can't be discouraged. We're trying to keep people alive so that they can get help."
Going into 2019, Scheffler said, the coalition hopes to expand its team, add a newsletter distribution with stories of people in long-term recovery, increase awareness about its temporary ID program, provide more community training and get more people into treatment programs.
Valente said the Drug-Free organization will also focus its efforts on continuing to educate parents and families as well as health providers on the link between opioid prescriptions and the risk of addiction.
With the Horizon Foundation of New Jersey, Partnership for a Drug-Free New Jersey will launch a continuing medical education credit course for health professionals on the epidemic and best prescribing practices.
NJ CARES data show prescribing rates continue to go down. More than 4.1 million opioid prescriptions were made to residents in 2018, a drop of about 14 percent.
The Drug-Free organization will also be running campaigns to increase awareness of the role that fentanyl has played in the addiction epidemic, Valente said.
Fentanyl, which is 50 to 100 times more potent than heroin and morphine, was involved in more than half of all overdose deaths in 2017.
Law enforcement officials have said the drug has made it more difficult to revive people with opioid reversals like naloxone. The Hope One vans, along with the South Jersey AIDS Alliance, have started handing out fentanyl testing strips to active users to help them detect the drug.
"We're going to have to be aggressive in providing info and as many treatment options as possible," Valente said. "We do see that recovery works. We have more people in long-term recovery in the state who are doing great things, and we still have many people who are still struggling."