Finalists Announced for NJ Shouts Down Drugs Music Competition
3/1/2013
FOR IMMEDIATE RELEASE
March 1, 2013
Contact:  
Christopher Barus, PDFNJ
Phone: 973.467.2100, ext. 24
E-mail: barus@drugfreenj.org
Click on image below to download/print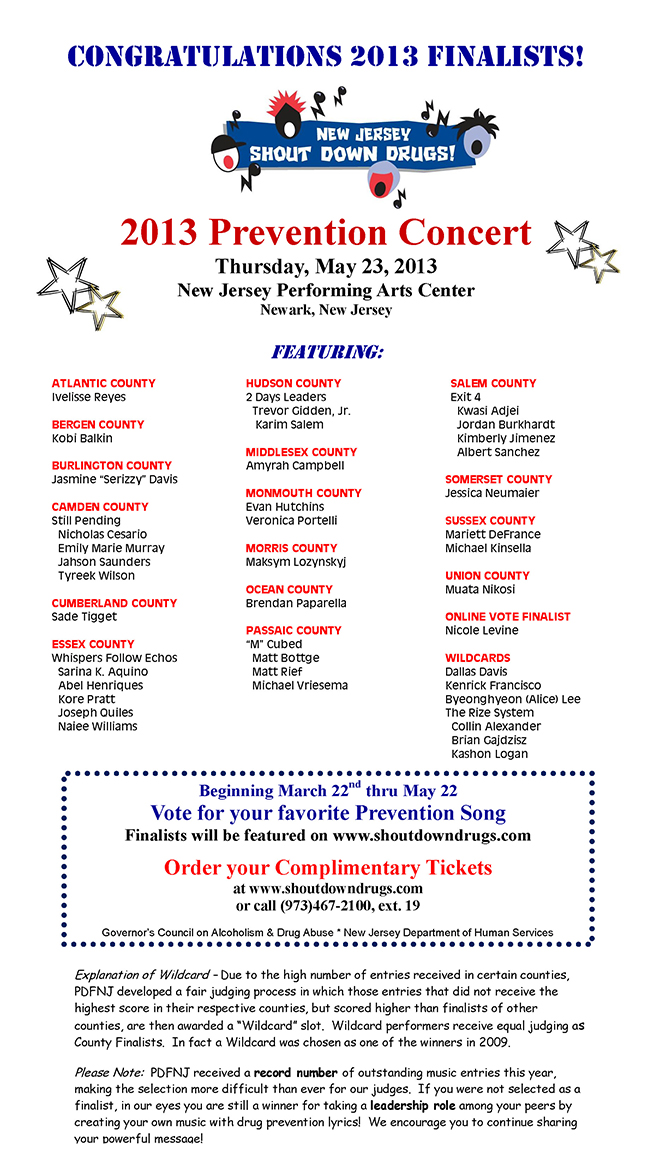 ​
Finalists Announced for High School Prevention Music Competition
Voting at ShoutDownDrugs.Com Begins March 22nd
MILLBURN---  The Partnership for a Drug-Free New Jersey, today, released the finalist list for the 2013 New Jersey Shout Down Drugs Competition(NJSDD), its substance abuse prevention themed music and song writing competition for high school students.
The 38 finalists, representing 16 counties, have advanced to the finals of the ninth annual NJSDD music competition.  The teens will be featured on ShoutDownDrugs.com from March 22, 2013 through May 22, 2013.   The public can listen to their music and cast votes for their favorite songs during this time.  Online votes will be factored into the overall scores to determine the statewide winners.
On May 23, 2013, the finalists will perform their original music, containing powerful substance abuse prevention messages, at the 9th Annual Prevention Concert at the New Jersey Performing Art Center (NJPAC), and will compete for one of three music contracts, valued at $5,000, $3,000 and $2,000.
Comcast, the title sponsor since 2006, will air the concert on Comcast On Demand. Tickets for the Prevention Concert are free-of-charge but reservations must be made. Reservations will be accepted beginning March 22, 2013 by visiting shoutdowndrugs.com or by calling 973-467-2100, ext. 19.
Photo and interview opportunities are available upon request
Best known for its statewide anti-drug advertising campaign, the Partnership for a Drug-Free New Jersey is a private not-for-profit coalition of professionals from the communications, corporate and government communities whose collective mission is to reduce demand for illicit drugs in New Jersey through media communication.  To date, more than $70 million in broadcast time and print space has been donated to the Partnership's New Jersey campaign, making it the largest public service advertising campaign in New Jersey's history. Since its inception the Partnership has garnered 120 Advertising and Public Relations Awards from National, Regional & Statewide Media Organizations.