Heroin Prevention PSAs Urge Parents to Talk to their Children as Heroin Deaths Spike in NJ
9/12/2013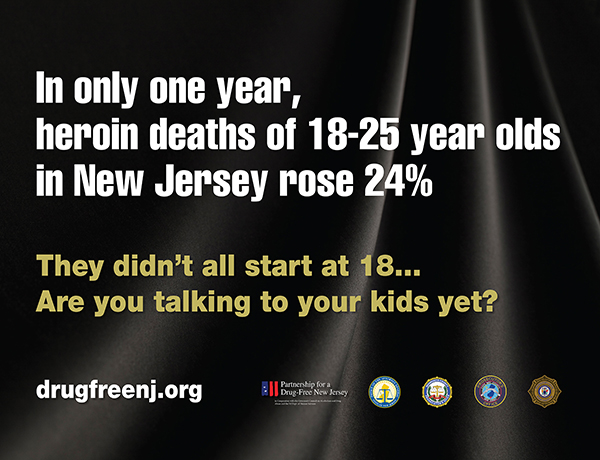 For Immediate Release: September 12, 2013
Contact: Angela Conover, PDFNJ, 201-916-1030 conover@drugfreenj.org
Heroin Prevention PSAs Urge Parents to Talk to their Children as Heroin Deaths Spike in NJ
NEW BRUNSWICK— Talking to your kids about the dangers of heroin is the theme of a new public service campaign created by the Partnership for a Drug-Free New Jersey (PDFNJ), in collaboration with the New Jersey Office of the Attorney General, and the County Prosecutors in Monmouth, Ocean, and Cape May Counties.
The campaign entitled "Heroin- Are you Talking to Your Kids Yet?" will be released, today, at the annual New Jersey Governor's Council on Alcoholism and Drug Abuse Summit.
Angelo M. Valente, Executive Director of the Partnership for a Drug-Free New Jersey said that the campaign was developed to bring public attention to the alarming trends in the abuse of heroin in New Jersey.  He explained that the campaign urges parents to begin conversations with their children about the dangers of heroin abuse before their teenage years – when many counties are reporting staggering overdose and death rates attributed to heroin use.
"We are facing an epidemic of heroin use, driven by young people seeking cheaper alternatives to Oxycodone and the other opiate pain pills that have become a primary gateway drug," Acting Attorney General John J. Hoffman said. "We're attacking this problem at its roots, through prevention and education efforts, as well as through law enforcement operations that identify and take down heroin mills, and crack down on the diversion of prescription painkillers."
"The three counties involved in the first wave of our release have seen a particularly high spike in heroin over doses and deaths," Valente noted.
 "We can no longer remain silent on this deadly issue. We cannot turn a blind eye to the possibility our kids may be using drugs. We can't push this away with the excuse that 'my kid could never get involved with drugs.' The situation is critical – young people are dying at an alarming rate. Everyone must start talking about the deadly effects of heroin, and the conversation must begin from the point of view that any teenager may have already fallen prey to this unforgiving drug," said Acting Monmouth County Prosecutor Christopher J. Gramiccioni.
Ocean County Prosecutor Joseph Coronato said, "The launch of this proactive Heroin awareness campaign could not come at a more important time.  Opiate related overdose deaths in Ocean County are on pace to shatter the previous year's high.  If current trends hold we will quadruple the number of people who died from drug overdoses last year.  The numbers are terrifying and indicative of the hold these drugs have over our young people.  The time to educate our sons and daughters of heroin's death toll is now."    
Valente noted that the campaign includes posters, web banners, billboards and PATH Station lobby signage. The campaign will be distributed in all 21 counties in 2014 and will include radio and television public service announcements.
###