Knock Out Opioid Abuse Town Hall Brings Opioid Discussion to Cumberland, Gloucester and Salem Counties
9/28/2017

FOR IMMEDIATE RELEASE: September 28, 2017
Contact: Matt Birchenough, 201-916-1032, media@drugfreenj.org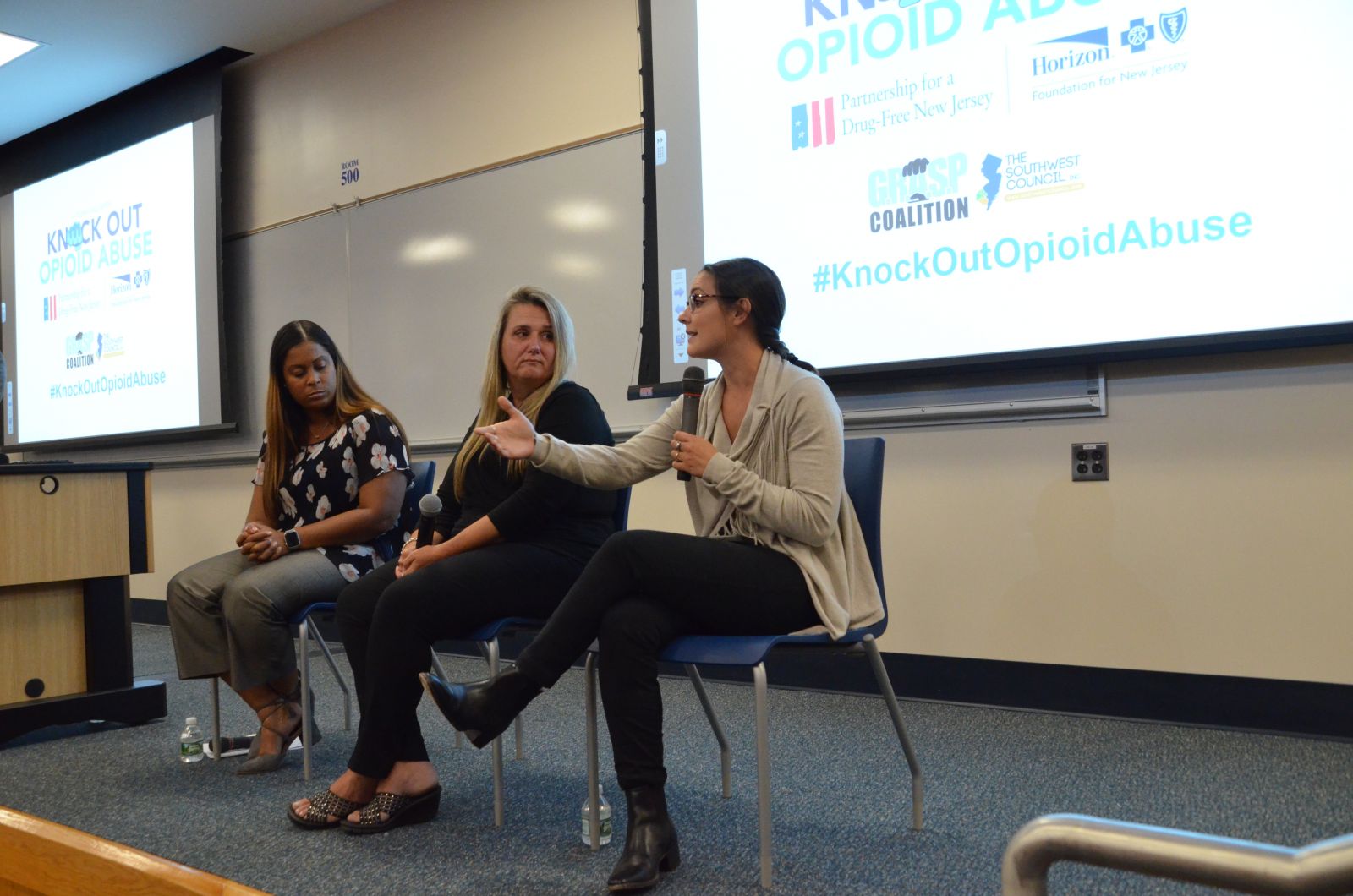 Panelists, from left, Candice Carter of the GRASP Coalition, Michele Perez of City of Angels and Alyssa Fountain of Recovery Centers of America discussed stigma and addiction treatment at Wednesday's Knock Out Opioid Abuse Town Hall in Gloucester County.
SEWELL — Residents of Cumberland, Gloucester and Salem counties gathered at Rowan College at Gloucester County to join the conversation on the opioid epidemic ravaging families and communities throughout the state at Wednesday night's Knock Out Opioid Abuse Town Hall held by the Partnership for a Drug-Free New Jersey (PDFNJ).
There were 121 drug overdose deaths total in Cumberland, Gloucester and Salem counties in 2015, according to the New Jersey Office of the State Medical Examiner. A majority of those deaths involved an opioid. In Gloucester County alone, there were 88 opioid overdose deaths in 2016; that total stands at 96 thus far in 2017.
"There is not a day that goes by without hearing or seeing a story in our neighborhood or in the media on the impact of the misuse of prescription medication, heroin abuse, the countless overdoses impacting all of our communities, and so many of our families dealing with the day-to-day challenges of this disease," said Matthew Rudd, Director of Coalitions and Communications for The Southwest Council, Inc., and the town hall's moderator.
Co-sponsored by the Horizon Foundation for New Jersey and organized with help from the Gloucester Regional Addictive Substances Prevention (GRASP) Coalition and the Southwest Council, Inc., the town hall shed light on the causes of the opioid crisis and its effects on New Jersey's three southwest counties.
"We all need to work together to lower the rates of opioid prescriptions, reduce opioid addiction and overdose and improve health outcomes for those receiving treatment for opioid abuse," said Jennifer Goudy, Program Officer with The Horizon Foundation of New Jersey.
The event featured discussions on various components of the crisis by an expert panel that featured Michele Perez, a certified interventionist with City of Angels; Alyssa Fountain from Recovery Centers of America; Candice Carter, the GRASP coalition coordinator with The Southwest Council; Sgt. Danielle LoRusoo of the Gloucester County Prosecutor's Office; and William J. Lynch Jr., Clinical Staff Pharmacist with Kennedy Health System.
"We want to save lives. Really, that's it," said Gloucester County Freeholder Jim Jefferson, who provided introductory remarks. "We want to be in the business of pointing people to the place where they can get the most help to live their life in a healthy way."
Wednesday's event was the sixth town hall in a 17-part series being held throughout the state. The next Knock Out Opioid Abuse Town Hall will be held Friday, Sept. 29 in Warren County
###
Best known for its statewide anti-drug advertising campaign, the Partnership for a Drug-Free New Jersey is a private not-for-profit coalition of professionals from the communications, corporate and government communities whose collective mission is to reduce demand for illicit drugs in New Jersey through media communication.  To date, more than $70 million in broadcast time and print space has been donated to the Partnership's New Jersey campaign, making it the largest public service advertising campaign in New Jersey's history. Since its inception, the Partnership has garnered 166 advertising and public relations awards from national, regional and statewide media organizations.