New Prescribing Guidelines for Opiates Released by State Dental Association NJDA Leads Conversation on Safe Prescribing
11/7/2016

Press Release
For Immediate Release: November 4, 2016
Contact: Lorraine Sedor, NJDA, 732-821-9400, lsedor@njda.org
                Angela Conover, PDFNJ, 201-916-1030, conover@drugfreenj.org
New Prescribing Guidelines for Opiates Released by State Dental Association NJDA Leads Conversation on Safe Prescribing
NORTH BRUNSWICK—  Dentists in New Jersey have proven they are committed to preventing the abuse of prescription pain medicine.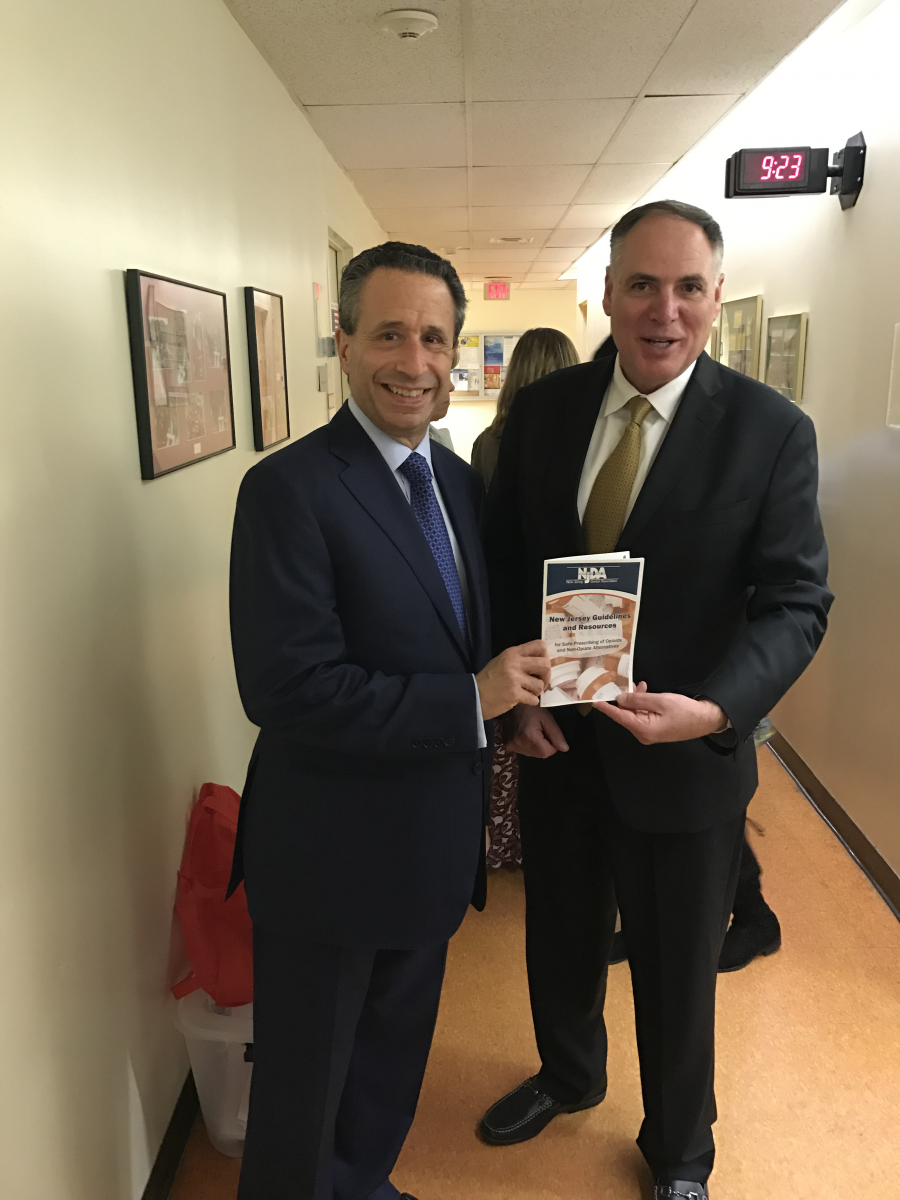 Mark Vitale (left), President of the New Jersey Dental Association (NJDA) and Angelo Valente, Executive Director, Partnership for a Drug – Free New Jersey (PDFNJ) attend the Do No Harm symposium at Monmouth Medical Center to educate members of the dental community on the heroin and prescription drug abuse epidemic in New Jersey and develop solutions to stem the public health crisis.
In response to the worsening opioid abuse epidemic in New Jersey, the state's largest dental organization, the New Jersey Dental Association (NJDA), released guidelines to its members on safe prescribing and dosing of opiate medications. The guidelines were released, November 3, 2016, at the Partnership for a Drug-Free New Jersey's (PDFNJ) Do No Harm Symposium, a continuing education workshop designed to develop solutions to the opiate abuse epidemic by educating prescribers about safer prescribing, the scope of the opiate abuse epidemic in New Jersey, and the link between prescribed pain medicines and heroin abuse.
The NJDA has also developed an informed consent document that provides an opportunity for dialogue between the dentist and patient or the patient's parent or caregiver about the potential for dependency, misuse and side effects, and the need to properly secure these medicines and dispose of them properly. This effort is the first comprehensive statewide initiative of its kind, in the nation, to address acute dental pain.
"The dental community in New Jersey recognizes they have an opportunity to teach patients about abuse and overdose. The NJDA's mission, to provide ethical oral healthcare, extends to educating the public and ourselves about this devastating epidemic," explained Dr. Elisa Velazquez, chair of the NJDA Council on Governmental and Public Affairs and a pediatric dentist in Toms River and Manahawkin.
"Alternatives to opiates for acute pain management, such as the pain experienced after a tooth extraction, are available and should be considered as part of the patient's treatment plan," explained Velazquez.
Dr. Mark Vitale, a general dentist in Edison, who is president-elect of the NJDA and a member of the subcommittee that drafted the guidelines explained, "In all cases, the dentist should include the patient in the decision, including a thorough review of their medical history." Vitale noted, adding, "We encourage our dentists to consult with the patient's physician when possible and to access the NJ Prescription Monitoring Program (NJPMP) as required prior to prescribing opiates."
"The NJDA and our member dentists realize there is no 'single face' of addiction and abuse, and therefore we must take the necessary steps and have the sometimes difficult discussion with each of our patients prior to prescribing," said Giorgio T. DiVincenzo, president of the NJDA and a periodontist in Jersey City. DiVincenzo pushed for the development of guidelines and communications tools for the NJDA members. "With the rising tide of abuse in NJ and nationwide, we must be part of the solution," explained DiVincenzo.
"The New Jersey Dental Association in making significant strides in combatting opiate abuse in our state by joining with the Partnership for a Drug-Free New Jersey to advocate for safe prescribing of opiates and non-opiate alternatives," said Angelo M. Valente, Executive Director of the PDFNJ.  "This effort will lead to the prevention of new cases of opioid addiction, and this effort, which begins at the introduction of a prescribed opiate, is a monumental step, that will save lives."
###