Ocean County Prosecutor, Other Experts Lead Opioid Discussion at Town Hall
5/18/2018

FOR IMMEDIATE RELEASE: May 18, 2018
Contact: Matt Birchenough, 201-916-1032, media@drugfreenj.org
Ocean County Prosecutor, Other Experts Lead Opioid Discussion at Town Hall
LITTLE EGG HARBOR TWP. — Ocean County experts provided residents a comprehensive look into the opioid epidemic ravaging the county and the state at a Knock Out Opioid Abuse Town Hall Series hosted Thursday night by the Partnership for a Drug-Free New Jersey and the Horizon Foundation for New Jersey.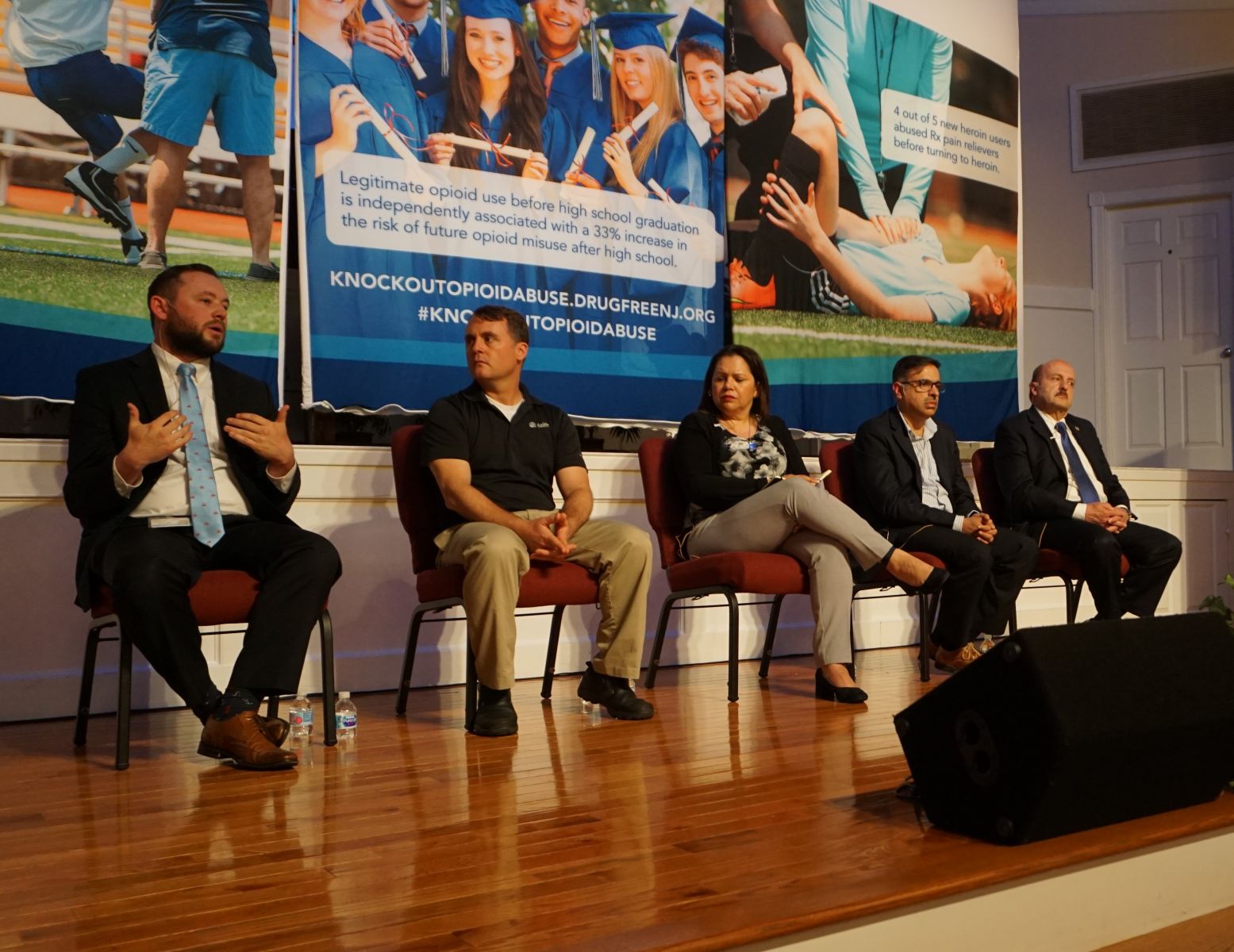 Ocean County experts addressed the ongoing opioid crisis at a Knock Out Opioid Abuse Town Hall on Thursday at Calvary Baptist Church in Little Egg Harbor. From left, Michael Capko, Pastor Mike Dellaperute, Liza DeJesus, Dr. Muhammad Abbas and Ocean County Prosecutor Joseph Coronato.
Nearly 100 county residents who gathered at Calvary Baptist Church learned about the alarming statistics associated with the crisis, as well as some signs of hope in addressing the issue.
"There is not a day that goes by without hearing or seeing a story in our neighborhood or in the media on the impact of the misuse of prescription medication or heroin abuse," said Rebecca Alfaro, deputy director of the Governor's Council on Alcoholism and Drug Abuse, who served as the town hall's moderator. "Ocean County is not immune. No family or community is immune."
Speakers included Ocean County Prosecutor Joseph D. Coronato; Dr. Muhammad Abbas of Jersey Shore University Medical Center; Pastor Mike Dellaperute of Calvary Baptist Church; Liza DeJesus, director of prevention services with Prevention First; and Michael Capko, Manager of the DART Coalition.
Overdose deaths in the county peaked in 2016, during which 216 people died of drug-related causes, Ocean County Prosecutor Joseph Coronato said. However, that number dropped roughly 25 percent to 166 in 2017, and the 57 deaths this year through April 30 are following a similar pace as last year.
Coronato attributed some of this decrease to his office's Blue HART (Heroin Addiction Recovery & Treatment) program, which allows people struggling with addictions to go to police stations and be directed into treatment.
"In 2017, 373 people walked into a police station asking for help. That's why I think you have a 25 percent reduction in overdose deaths," Coronato said.  
Panelists also discussed the importance of prevention in addressing the epidemic, ranging from discarding unused medications in prescription drop boxes to seeking alternatives to prescription opioids to building self-esteem in young children.
"Prevention is the first step of addressing this epidemic," DeJesus said. "It plants the seed of hope."
The series, which began in 2017 and now has been hosted for 19 counties, focuses on the link between prescription opioid dependency and heroin use and examines the causes and possible solutions of the opioid crisis from several perspectives, including law enforcement, government, the medical community, prevention, treatment and recovery. The Ocean County event was held in collaboration with the Ocean County Prosecutor's Office and Calvary Baptist Church.
The next town hall will held Tuesday, May 22 in Essex County. A dedicated website, knockoutopioidabuse.drugfreenj.org, includes the full schedule of countywide town hall meetings and registration information. Knockoutopioidabuse.drugfreenj.org also provides local, county and state substance abuse prevention and treatment resources available.
###
Best known for its statewide substance use prevention advertising campaign, the Partnership for a Drug-Free New Jersey is a private not-for-profit coalition of professionals from the communications, corporate and government communities whose collective mission is to reduce demand for illicit drugs in New Jersey through media communication.  To date, more than $100 million in broadcast time and print space has been donated to the Partnership's New Jersey campaign, making it the largest public service advertising campaign in New Jersey's history. Since its inception, the Partnership has garnered 166 advertising and public relations awards from national, regional and statewide media organizations.