PDFNJ Claims Two Awards from National Association of Government Communicators
6/2/2021

FOR IMMEDIATE RELEASE: June 2, 2021
Contact: Natalie Golub, 973-382-4560, natalie@drugfreenj.org
Partnership for a Drug-Free New Jersey Claims Two Awards from National Association of Government Communicators
MILLBURN, NJ — The Partnership for a Drug-Free New Jersey (PDFNJ) received two awards at the 2021 National Association of Government Communicators Blue Pencil & Gold Screen Awards Ceremony held virtually on May 26.
The Blue Pencil & Gold Screen Awards recognize excellence in government communications at all levels across the nation. This year, 255 entries were submitted in 35 categories.
PDFNJ received first place in the digital display category for its Masking Campaign public service announcement that can be seen on a billboard located at 11 Times Square in New York City, as well as 72 public service stations along the Garden State Parkway and New Jersey Turnpike. The Masking Campaign educates the public about dual health concerns affecting New Jersey and the country: the COVID-19 pandemic and the opioid epidemic.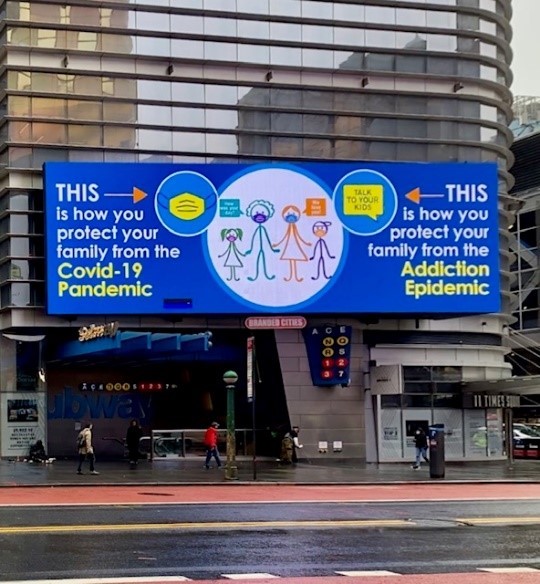 PDFNJ won a second-place award in the poster category for its Vaping Campaign poster, which educates students across New Jersey about the dangers of vaping and e-cigarettes and making healthy choices for themselves. The posters were distributed to 3,558 middle schools throughout New Jersey.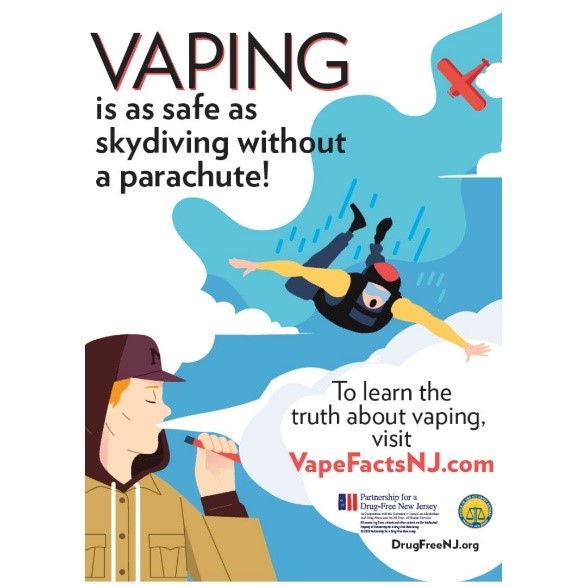 "The Partnership for a Drug-Free New Jersey is proud to receive these awards that recognize our efforts in spreading prevention messages to New Jersey residents," said Angelo Valente, Executive Director of PDFNJ. "Winning a national award for our work is a great honor." 
###
Best known for its statewide substance use prevention advertising campaign, the Partnership for a Drug-Free New Jersey is a private not-for-profit coalition of professionals from the communications, corporate and government communities whose collective mission is to reduce demand for illicit drugs in New Jersey through media communication. To date, more than $200 million in broadcast time and print space has been donated to the Partnership's New Jersey campaign, making it the largest public service advertising campaign in New Jersey's history. Since its inception, the Partnership has garnered 190 advertising and public relations awards from national, regional and statewide media organizations.