PDFNJ & Old Bridge Township Team Up to Combat Opioid Crisis
12/1/2021

FOR IMMEDIATE RELEASE: December 1, 2021
Contact: Natalie Golub, Media Coordinator, 973-382-4560, natalie@drugfreenj.org
The Partnership for a Drug-Free and Old Bridge Township Team Up to Combat Opioid Crisis
MILLBURN — Old Bridge Township Mayor Owen Henry along with the Old Bridge Municipal Alliance, government, police and school officials have teamed up with local businesses and the Partnership for a Drug-Free New Jersey (PDFNJ) to tackle the opioid crisis through education and awareness across the township.
This collaboration will kicked off December 1st with the unveiling of a billboard featuring a message about the risks of prescription opioids and the need to consider non-opioid alternatives. The billboard is just the first step in Old Bridge's efforts to educate their community and save lives from the opioid crisis. Local businesses have committed to placing posters in store windows to help spread the message and raise awareness in the community.
"As New Jersey's opioid epidemic continues to plague the state and the COVID-19 pandemic has exacerbated the issue, it is more important than ever that we raise awareness of the dangers of prescription opioids," said Angelo Valente, Executive Director of PDFNJ. "We are grateful for the support from the Old Bridge Municipal Alliance and the Township of Old Bridge in helping to bring these messages to their community."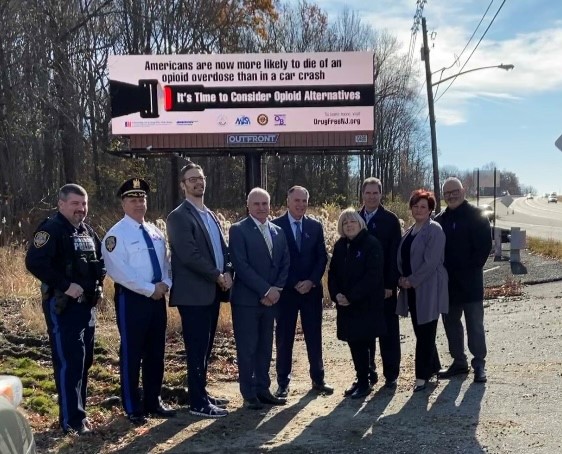 (left to right) Detective, Pat D'Onofrio; Joe Mandola, Old Bridge Acting Chief of Police, Jon Antal, Outfront Media; Old Bridge Mayor, Henry Owen; Angelo Valente, Executive Director PDFNJ, Mary Sohor, Old Bridge Township Council President; Steve Mamakas, Old Bridge Director of Parks & Recreation; Rosemarie Rivoli, Old Bridge Municipal Alliance Coordinator for the Prevention of Substance Abuse
"I am very proud of our community working together to create these important outreach programs bringing awareness to the Opioid crisis, and for facilitating different campaigns and partnerships", stated Mayor Owen Henry. He continued to say, "The Opioid Crisis is a major health issue with devastating consequences. The more we bring awareness, the more hope there is for less overdose deaths in the future."
In 2020, more than 3,000 people in New Jersey died of drug overdoses, a majority of which involved some form of opioid. From January through September 2021, there were 11,002 naloxone administrations to reverse opioid overdoses and 2,419 suspected overdose deaths. Preliminary data shows that New Jersey is on pace to end 2021 with more than 3,200 overdose deaths, which would be the most since the state started keeping track in 2012. 
"The team effort and collaboration between Old Bridge's local government, police, businesses and schools in raising awareness of this important issue is commendable, and we hope that other towns throughout New Jersey can use this as an example of all the good work that can be done to educate their communities about the dangers of opioids," said Valente.
###
Best known for its statewide substance use prevention advertising campaign, the Partnership for a Drug-Free New Jersey is a private not-for-profit coalition of professionals from the communications, corporate and government communities whose collective mission is to reduce demand for illicit drugs in New Jersey through media communication. To date, more than $200 million in broadcast time and print space has been donated to the Partnership's New Jersey campaign, making it the largest public service advertising campaign in New Jersey's history. Since its inception, the Partnership has garnered 211 advertising and public relations awards from national, regional and statewide media organizations