PDFNJ Pharmacy Bags with Life Saving Prevention Messages to be Distributed Throughout New Jersey
11/9/2021

FOR IMMEDIATE RELEASE: November 9, 2021
Contact: Natalie Golub, 973-382-4560, natalie@drugfreenj.org 
PDFNJ Pharmacy Bags with Life Saving Prevention Messages to be Distributed Throughout New Jersey
MILLBURN — The Partnership for a Drug-Free New Jersey (PDFNJ) is teaming up with pharmacies throughout the state to help educate New Jersey residents on the risks of prescription opioids and to raise awareness of safe disposal through the American Medicine Chest Challenge New Jersey (AMCC-NJ) National Day of Awareness on November 13.
PDFNJ, in collaboration with the Office of the New Jersey Coordinator of Addiction Responses and Enforcement Strategies (NJ CARES), which is responsible for overseeing addiction-fighting efforts across the New Jersey Office of the Attorney General, is distributing pharmacy bags featuring a public service campaign highlighting the potential dangers of prescription opioids for youth and how residents can safely dispose unused and expired opioids and other medications. The 225,000 bags have been distributed to 900 local pharmacies throughout New Jersey.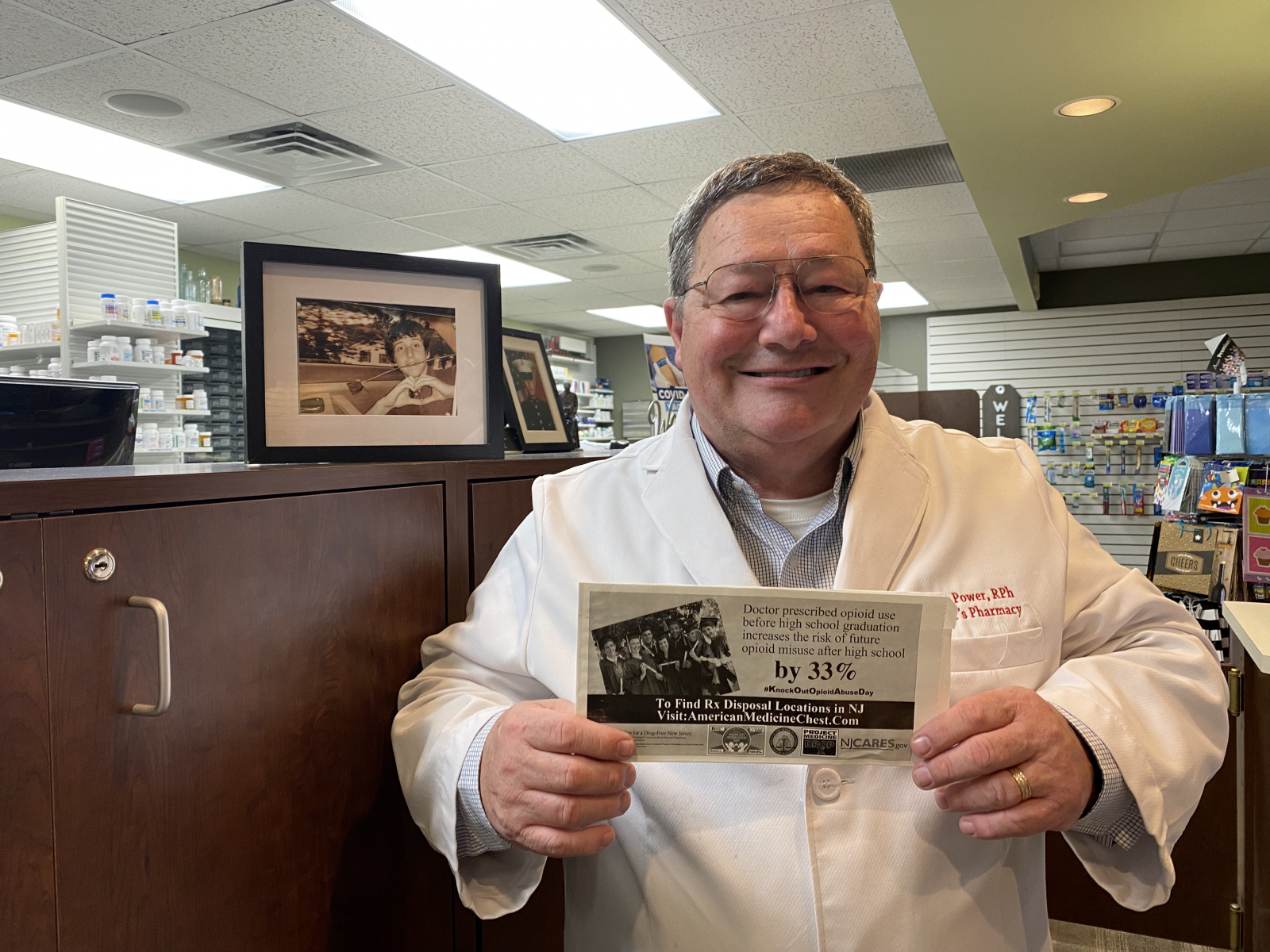 Pharmacist, John Power of Power's Pharmacy
in Browns Mills, NJ with PDFNJ Pharmacy Bag Encouraging Safe Disposal
The distribution of the pharmacy bags coincides with the AMCC-NJ National Day of Awareness, this Saturday, November 13, a community-based national public health initiative held in partnership with law enforcement partnership, with collection sites throughout New Jersey. To find a collection site, please visit the American Medicine Chest Challenge website, or Project Medicine Drop.
The AMCC-NJ National Day of Awareness provides a unified way to draw attention to the issue of prescription and over the counter abuse and challenge Americans to take the 5 Step American Medicine Chest Challenge. . 
The AMCC-NJ 5 steps include:
Take inventory of your prescription and over-the-counter medicine.
Secure your medicine.
Dispose of your unused, unwanted, and expired medicine at an American Medicine Chest Challenge Disposal site.
Do not share the medicine prescribed to you
Talk to your children and physician about the dangers of prescription drug abuse… they are listening.
"The way to prevent overdoses begins with raising awareness and educating people about the link between prescribed opioids and heroin and fentanyl overdose deaths in New Jersey and throughout the country," said Angelo Valente, Executive Director of PDFNJ. "These pharmacy bags raise awareness about the risks associated with prescription opioids right and the need to safely dispose of unused or expired prescriptions to make sure they don't get into the wrong hands.
New Jersey's opioid epidemic continues to plague the state and the COVID-19 pandemic has exacerbated the issue. In 2020, more than 3,000 people in New Jersey died of a drug overdose, a majority of which involved some form of opioid. From January through September 2021, there were 9,762 naloxone administrations to reverse opioid overdoses and 2,419 suspected overdose deaths.
 "We encourage everyone to take part in AMCC-NJ this year and safeguard our homes and families from the danger of prescription drugs and the opioid crisis," states Valente
# # #
The Partnership for a Drug-Free New Jersey is a private not-for-profit whose mission is to educate New Jerseyans, especially young people, about substance use prevention. The Partnership's public service advertising campaign is the largest in New Jersey history, earning 201 awards and more than $200 million donated in print space and broadcast time.