PSEG & PDFNJ to Bring Vital Substance Use Prevention Messages to Third Grade Students in Scotch Plains & Throughout NJ
3/3/2022


FOR IMMEDIATE RELEASE: March 3, 2022
Contact: Natalie Golub, Media Coordinator, 973-382-4560, natalie@drugfreenj.org
 
PSEG and PDFNJ to Bring Vital Substance Use Prevention Messages to Third Grade Students in Scotch Plains and Throughout New Jersey
Program Expanded to reach an additional 10,000 Students
 
Scotch Plains, NJ— The Partnership for a Drug-Free New Jersey (PDFNJ) and the PSEG Foundation are collaborating once again to send a message to New Jersey students across the state on the importance of healthy choices through the annual Third Grade Healthy Life Healthy Decisions Coloring and Activity Book. The third grade students at Brunner Elementary School in Scotch Plains received their books this week
The activity book, which contains a contract for a healthy life, will be distributed to 35,000 third grade students throughout the state, as PSEG has increased their generous grant and the program will reach an additional 10,000 students this year in efforts to educate young people about the importance of living a healthy life free of substance use. 
"We are grateful to PSEG for providing an additional 10,000 books this year, as students may be facing increased stress due to the pandemic and the need for substance use prevention is more important than ever, said PDFNJ's Executive Director, Angelo Valente. "Educating our youth to prevent the misuse of alcohol, tobacco and other drugs in communities and schools is an ongoing effort, and the earlier we start the better." Recent studies suggest research-based, age-appropriate prevention materials have had a positive impact as alcohol, tobacco and substance use has decreased among American teenagers in grades 8, 10 and 12.
"The children love the books every year. They are so excited to get them and learn about safe activities that are drug or alcohol free," said Scotch Plains Student Assistance Coordinator, Liz Gordon. "They also love talking about some of the places that they have been in New Jersey when they go through the books and see places like Liberty State Park, and the Jersey Shore. This is such a clever way to introduce such a serious topic  in an age-appropriate fun way."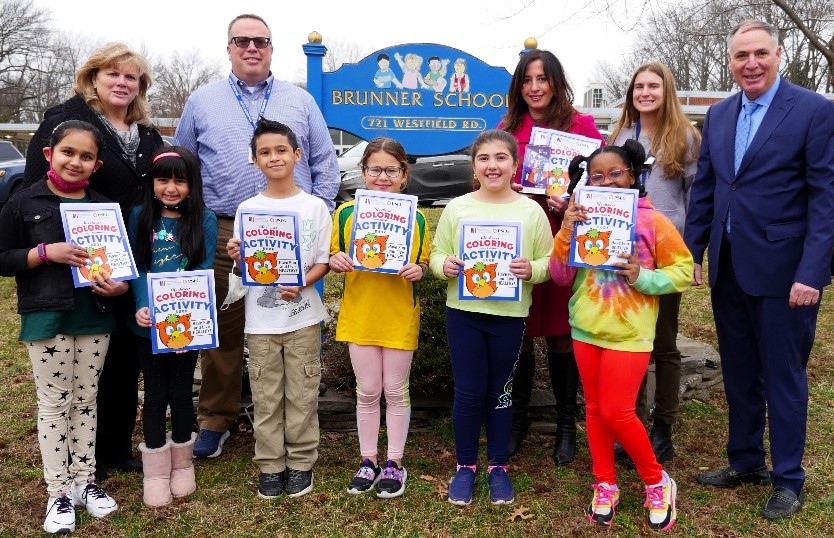 Third grade students at Brunner Elementary School receiving their activity books.
left to right: Scotch Plains Student Assistance Coordinator Liz Gordon, Brunner Elementary School Principal Scott Bortnick, Maria Spina, Manager PSEG Foundation, Third Grade Teacher, Genna Pepe and PDFNJ Executive Director, Angelo Valente
"The PSEG Foundation recognizes the importance of strengthening our communities and raising awareness about the risks associated with substance abuse", said Maria Spina, Manager PSEG Foundation. "When one of us in the community is impacted, we all are. That's why it's essential that we join together to act and build a framework of equity, compassion and respect that encourages young people to be a good role model to everyone in their lives. The PSEG Foundation is proud to support The Partnership for a Drug-Free New Jersey as together we aim to build thriving communities."
By distributing the contract through schools, PDFNJ and the PSEG Foundation recognize the key role educators play to engage New Jersey's youth in activities that teach them about the dangers of substance use and misuse. To highlight their role, the contract asks that students have their parents and a school representative sign it as well.
 "Parents and caregivers help children make healthy lifestyle choices, while schools help to educate students about healthy living and the consequences of substance use," said Valente. "The contract as part of the activity book encourages students commit to live a substance-free life."
###
About the Partnership for a Drug-Free New Jersey
Best known for its statewide anti-drug advertising campaign, the Partnership for a Drug-Free New Jersey is a private not-for-profit coalition of professionals from the communications, corporate and government communities whose collective mission is to reduce demand for illicit drugs in New Jersey through media communication. To date, more than $100 million in broadcast time and print space has been donated to the Partnership's New Jersey campaign, making it the largest public service advertising campaign in New Jersey's history. Since its inception the Partnership has garnered 211 advertising and public relations awards from national, regional and statewide media organizations.
About the PSEG Foundation
The PSEG Foundation (501c3) is the philanthropic arm of Public Service Enterprise Group (NYSE:PEG). The Foundation generally supports and invests in programs in three areas: community and the environment, education and safety. The Foundation provides grants to organizations in communities served by PSEG and its subsidiaries. 
Public Service Enterprise Group (NYSE: PEG) is a publicly traded diversified energy company with annual revenues of $9.1 billion and approximately 13,000 employees. Headquartered in Newark, N.J., PSEG's principal operating subsidiaries are: Public Service Electric and Gas Company (PSE&G), PSEG Power and PSEG Long Island. PSEG is a Fortune 500 company included in the S&P 500 Index and has been named to the Dow Jones Sustainability Index for North America for 10 consecutive years. (www.pseg.com).