realwomanonline.com: PDFNJ Co-Chair Discusses Risks of Prescription Opioids
11/29/2018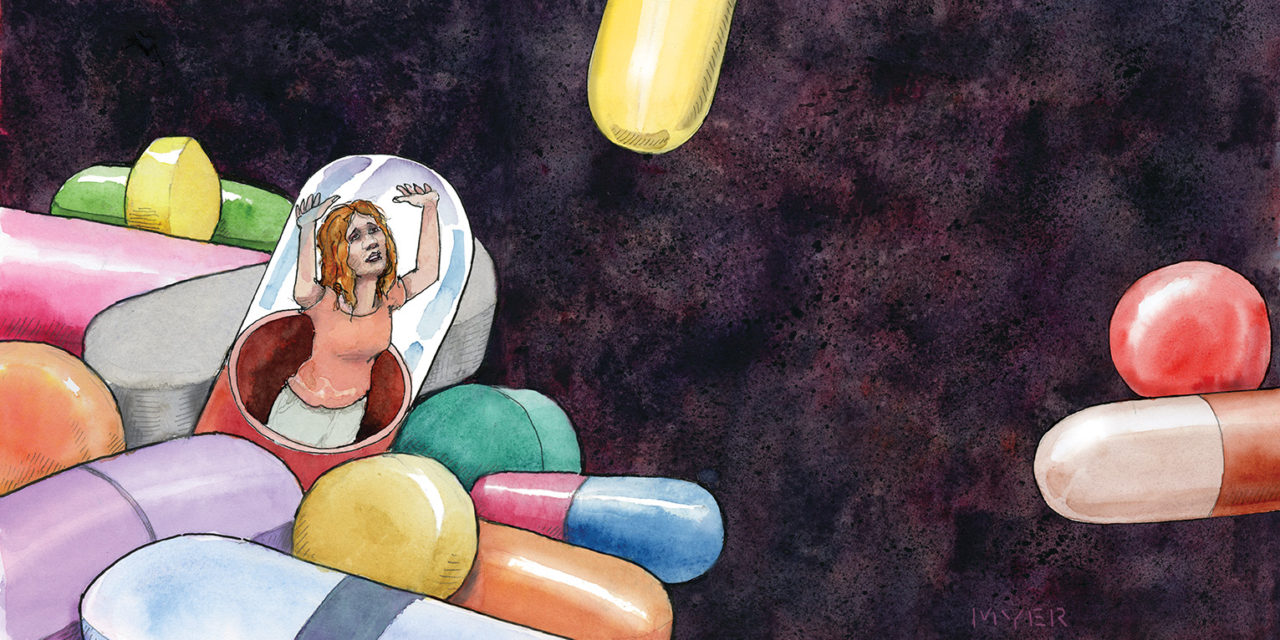 As the opioid epidemic reaches a crescendo, women are at particular risk for falling victim to one of the worst public health crises in American history. How did this happen, and what can we do to avoid dangerous and deadly consequences for ourselves and our loved ones? Real Woman investigates.
Susan Morrow distinctly remembers the moment she took her first Fioricet pill. Originally prescribed to help her alleviate chronic migraines, the combination of a barbiturate, acetaminophen, and caffeine did much more than that for Morrow. "I felt so happy and outgoing," she says. "I was finally able to get out of my own skin." She frequently suffers from intense migraines as well as anxiety and depression, and the little white Fioricet tablets diminished her pain and insecurities, making her feel normal—or at least what she thought was normal. But along with easing her migraines, these pills also unlocked something deeper inside her.
At the time, Morrow (not her real name) was a NICU nurse at a hospital in Atlantic County, and she relished how the drug kept her anxiety in check, especially during stressful situations. It also opened up her inhibitions to the point that she found herself describing scenes from Fifty Shades of Grey to the father of one of the premature babies in intensive care. Despite these episodes, Morrow couldn't get enough of the drug. "I loved how the pills helped me not be myself," she says. "I would take a handful at a time until the prescription was gone. Then I would call in my next prescription right away and go straight through it." This cycle continued until her doctor caught on and stopped the Fioricet prescription.
Unwilling to come down from this steady high, Morrow asked her primary doctor for a Percocet prescription. While barbiturates like Fioricet are frequently recommended for migraines, opioids like Percocet and Codeine are often substituted to alleviate a patient's suffering. And once Morrow was on opioids, her troubles really began. "On the days when I ran out of pills, nothing made me happy," she says. "I would sweat and ache all over, like I had the flu." When her Percocet prescription finally ran out, she raided the stash of Xanax pills under her parents' bathroom vanity—anything to avoid going through opioid withdrawal, which made her irritable and restless. Finally, after running through her parents' pills, Morrow started taking her husband's Tramadol: "I would just ask the doctor to call in the refills." For a while, this ensured her a steady supply of opioids.
In 2013, 4 years into her prescription-drug addiction, Morrow became pregnant with her second child. Despite seeing the withdrawal struggles of babies at the hospital who were born physically dependent on opioids (called neonatal abstinence syndrome), she couldn't bring herself to quit the pills for her unborn child's health. She desperately needed that feeling of not being herself, and couldn't get through the day without it. "My husband would sometimes question my behavior, but I was able to get through with lies, and he didn't push too hard," she says. Despite spending every waking moment either on prescription pills or hunting down more to stave off withdrawal sickness, Morrow didn't see herself as a drug addict. "In my mind, an addict was somebody sitting dazed on a side street with a heroin needle sticking out of her arm, and I wasn't that person; I couldn't be."
Thanks to the opioid epidemic sweeping the country, the face of drug addiction is changing, as more and more women like Susan Morrow find themselves hopelessly hooked on prescription pills. Currently in the United States, 31 women lose their lives to opioids every day. While this statistic is staggering, it's also growing at an alarming rate along with stories of mothers overdosing with toddlers sitting helplessly in the back seats of their cars and twenty-something college students losing their lives to heroin and fentanyl.
The opioid epidemic isn't a crisis of abuse but one of addiction, and it cuts across class lines. New Jersey's top four zip codes for opioid overdose include urban areas like Trenton and Camden along with suburban enclaves like Brick and Elizabeth. In Philadelphia alone, about 55,000 people are believed to be abusing opioids, and Philly had 907 drug overdose deaths in 2016. This is an amazing statistic given that all five boroughs of New York City saw a total of 910 overdose deaths that same year. "What this epidemic has shown us is that opioids know no geographic boundary, no demographic or age boundary, and no socioeconomic boundary," says Deni Carise, PhD, chief scientific officer at King of Prussia–based Recovery Centers of America. "Opioids now effect so many American lives, and we can't afford to have stigma stopping people from coming into treatment."
For Susan Morrow, treatment was the farthest thing from her mind, which is why the life of this Jersey girl had to get a lot worse before it got better.