Somerset County Experts, Residents Focus on Opioid Epidemic at Knock Out Opioid Abuse Town Hall
10/11/2017

FOR IMMEDIATE RELEASE: October 11, 2017
Contact: Matt Birchenough, 201-916-1032, media@drugfreenj.org
Somerset County Experts, Residents Focus on Opioid Epidemic at Knock Out Opioid Abuse Town Hall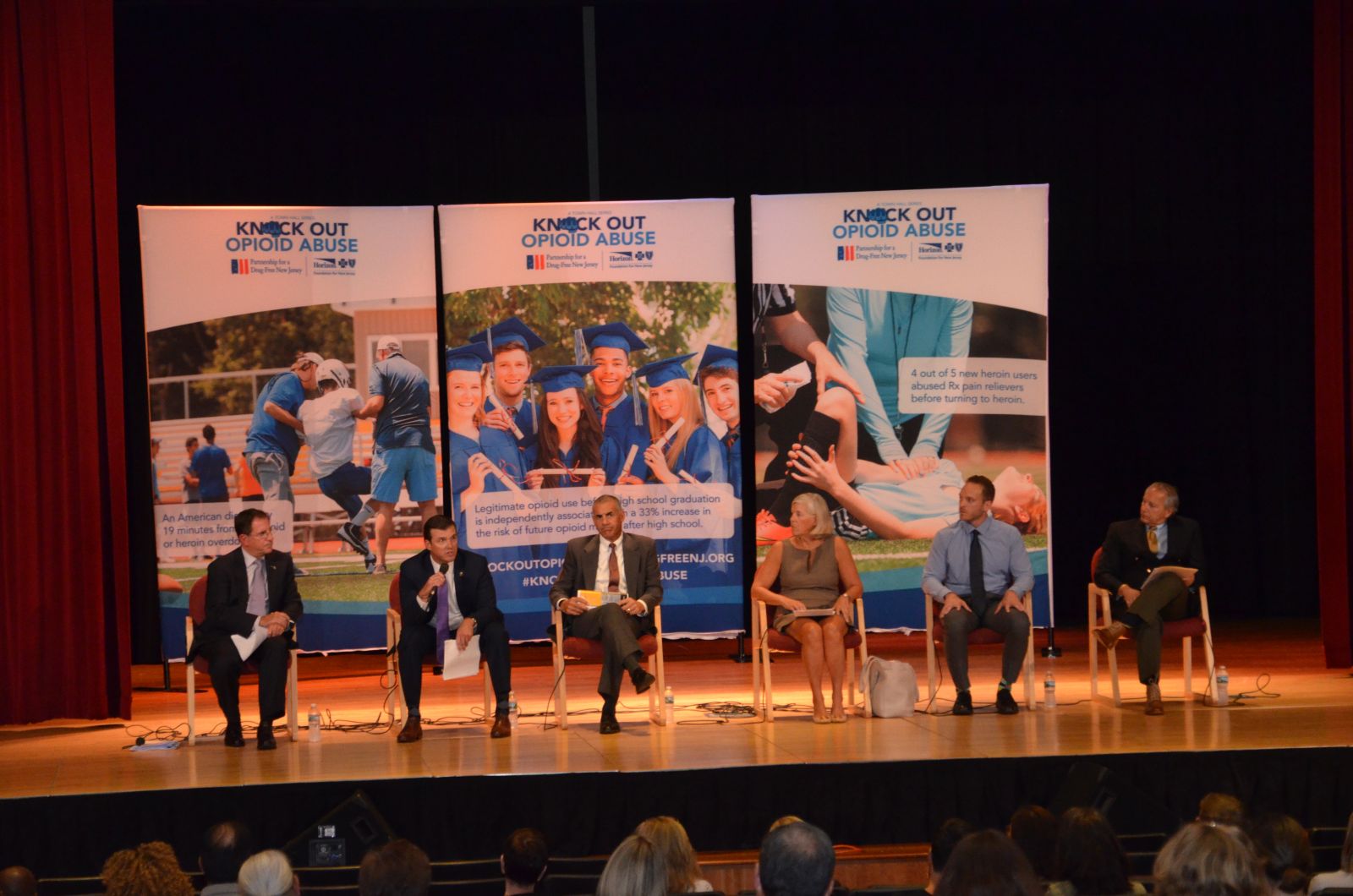 From left, Dr. Michael Gerardi, Somerset County Prosecutor Michael Robertson, Assemblyman Jack Ciattarelli, Jody D'Agostini, Michael Pittman and Gregg Benson addressed Somerset County residents and the causes and effects of the opioid crisis Tuesday at Bernards High School.  
BERNARDSVILLE — Residents of Somerset County gathered at Bernards High School on Tuesday night to not only learn from experts but also to share their own knowledge and concerns about the opioid epidemic ravaging New Jersey at the Partnership for a Drug-Free New Jersey's Knock Out Opioid Abuse Town Hall.
Every day, an average of 144 people in the United States die from an opioid overdose, according to the Drug Enforcement Administration. In New Jersey, an estimated 2,000 people died of an opioid overdose in 2016. Meanwhile, from January through September 2017, Somerset County law enforcement agencies deployed naloxone on 360 people throughout the county.
"The takeaways from this night are, one, to not think for a second that this is not in your back yard or your town, because it is. And two, to keep talking about it," said Somerset County Prosecutor Michael Robertson.
Robertson sat on an expert panel that also featured Jody D'Agostini, Founder and Chair of Community in Crisis; Gregg Benson, a Licensed Clinical Alcohol and Drug Counselor; Michael Pittman, Outreach Coordinator with Humble Beginnings Recovery Centers; Michael Gerardi, MD, Director of Pediatric Emergency Medicine for Goryeb Children's Hospital and the Atlantic Health System; and Assemblyman Jack Ciattarelli.
The panel provided a comprehensive review of the opioid epidemic from medical, law enforcement and legislative perspectives, as well as a focus on prevention, recovery and barriers to treatment. Speakers stressed that the public could take on a greater role in addressing the epidemic by spreading key information with their neighbors, friends and family.
"You can do a lot more than I can do as a legislator by going out and sharing what you hear tonight," Ciattarelli said. "We really need to spread the word. We have an epidemic, but like anything else, if we go about it the right way we can solve it."
Organized with the Horizon Foundation for New Jersey, the 17-part town hall series focuses on the link between prescription drug dependency and heroin abuse and examines the causes of the current opioid crisis and possible solutions in addressing the problem. The Somerset County event was the ninth town hall held throughout the state and was co-sponsored by Community in Crisis.
"New Jersey has the sixth highest rate in the nation of visits to the emergency room due to opioid abuse," said Suzanne Kunis, Director of Behavioral Health for Horizon Blue Cross Blue Shield of New Jersey. "We know how important addressing this epidemic is, and that's why we welcome the opportunity to do our part to help Knock Out Opioid Abuse in New Jersey."
The next town hall will be held Thursday, Oct. 26 in Burlington County. For more information on the Knock Out Opioid Abuse Town Hall Series, visit http://knockoutopioidabuse.drugfreenj.org/.
###
Best known for its statewide anti-drug advertising campaign, the Partnership for a Drug-Free New Jersey is a private not-for-profit coalition of professionals from the communications, corporate and government communities whose collective mission is to reduce demand for illicit drugs in New Jersey through media communication.  To date, more than $70 million in broadcast time and print space has been donated to the Partnership's New Jersey campaign, making it the largest public service advertising campaign in New Jersey's history. Since its inception, the Partnership has garnered 166 advertising and public relations awards from national, regional and statewide media organizations.