Somerset's Will Carnevale Wins 2009 NJ Shouts Down Drugs Music Competition
5/8/2009
FOR IMMEDIATE RELEASE
May 8, 2009
Contact Information:
Michelle Vernuccio Media Coordinator
Phone: 973.467.2100, ext. 24
E-mail: michelle@drugfreenj.org
SOMERSET COUNTY'S WILL CARNEVALE WINS 2009 NJ SHOUTS DOWN DRUGS STATEWIDE MUSIC COMPETITION
Please click here to listen to all the winning songs.
New Jersey High School Students Win $10,000 in Prizes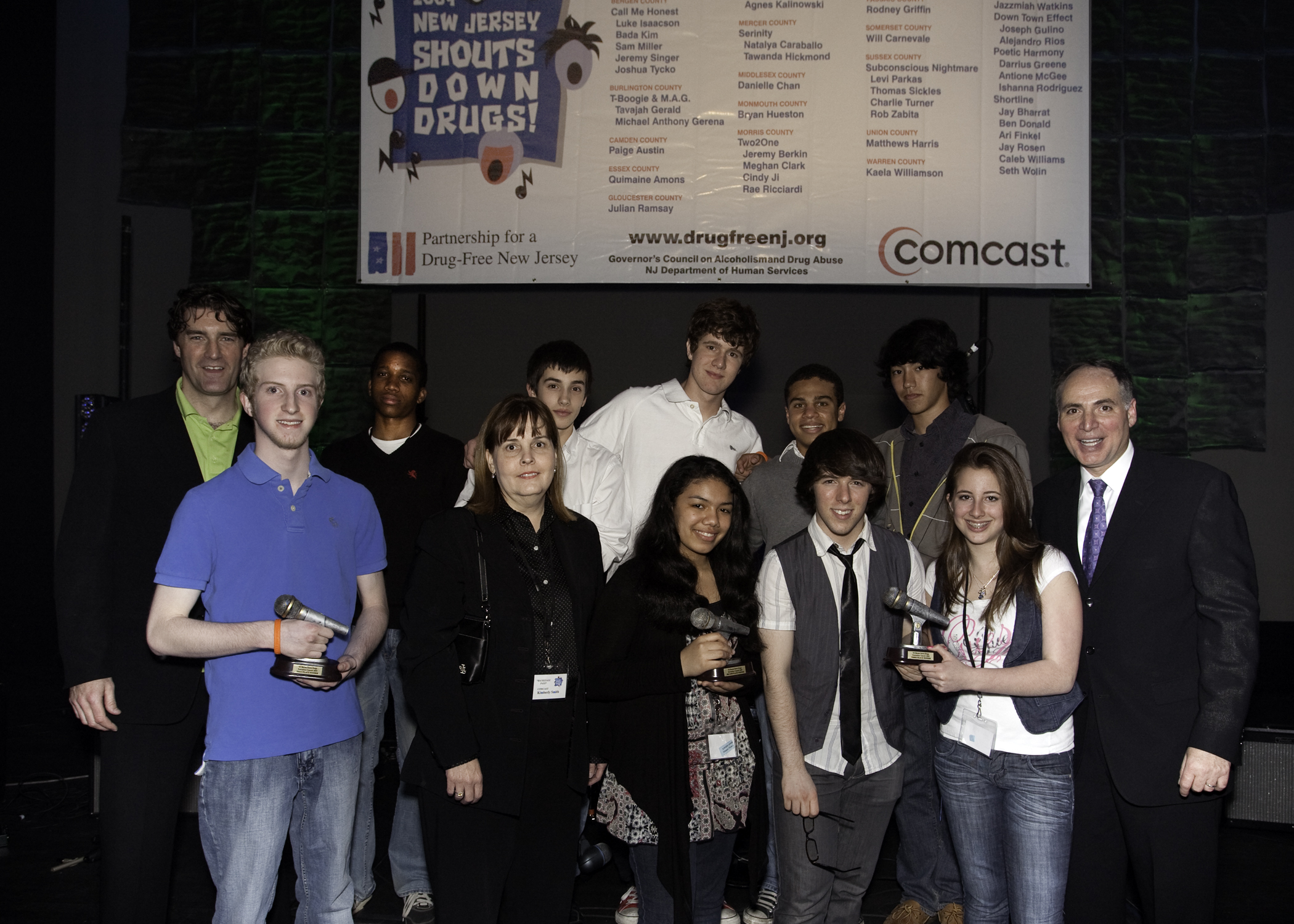 Please click here to listen to all the winning songs.
2009 New Jersey Shouts Down Drugs Winners Announced
Somerset, Camden, Ocean, and Essex County high school students win first, second and third place honors at the May 6, 2009 Fifth Annual New Jersey Shouts Down Drugs Statewide Prevention Concert at NJ Performing Arts Center for $10,000 in prizes. The winners of the New Jersey Shouts Down Drugs (NJSDD) music competition, sponsored by the Partnership for a Drug-Free New Jersey (PDFNJ) and Comcast, will sign a $5,000 (first place), $3,000 (second place) and $2,000 (third place) music contract with PDFNJ to perform their winning song live at statewide prevention events and have their music professionally recorded.
From LEFT to RIGHT: (Back Row) Patrick Boll, 09 Prevention Concert Host, Group Called Shortline, Essex County, Third Place Winner of New Jersey Shouts Down Drugs (NJSDD); (Front Row) Will Carnevale, Somerset County, First Place Winner of NJSDD; Kimberly Smith, Regional Director of Community Affairs, Comcast; Paige Austin, Camden County, Second Place Winner of NJSDD; Gabriella Markey, Ocean County, Third Place Winner of NJSDD; Angelo M. Valente, Executive Director, Partnership for a Drug- Free New Jersey.

(MILLBURN, N.J.) – On Wednesday, May 6, 2009, 44 high school students from 17 different counties performed their original music as finalists in the Partnership for a Drug-Free New Jersey's (PDFNJ) Fifth Annual Shouts Down Drugs music concert, a statewide drug prevention initiative, sponsored by Comcast, exclusively targeting high school students.
High school students throughout the state were invited to submit original songs delivering an anti-drug message within the lyrics. Calls for entries were made to every high school in New Jersey with the opportunity to compete for $10,000 in prizes. Each finalist was judged on the following criteria: Prevention Message/Lyrics (50%), Originality (25%), and Voice / Performance (25%).
On May 6, 2009 the finalists performed at the Prevention Concert '09 hosted by Patrick Boll, a New Jersey actor whose credits run the gamut from theater, film, television, commercials and industrials. Comcast will produce a one hour broadcast of the performances that will air on Comcast Channel One on Demand this summer.
The winner, Will Carnevale from Somerset County, a Junior at Bishop George Ahr, St. Thomas Aquinas High School in Edison, NJ and nine runners up: Paige Austin from Camden County, a freshman at Timber Creek High School in Erial, NJ; Gabriella Markey from Ocean County, a freshman at Toms River North High School in Toms River, NJ; and a group called Shortline from Essex County, consisting of Jay Barrat, Ben Donald, Ari Finkel, Jay Rosen, Caleb Williams and Seth Wolin, all Sophomores at Columbia High School in Maplewood, NJ, will have their songs professionally recorded and perform at statewide events.
"As an organization, we are committed to helping young people educate themselves about the dangers of drug and alcohol abuse." said Partnership Chairman Joseph A. Miele. "Music is a tremendous influence in the lives our young people. We are excited to launch New Jersey Shouts Down Drugs, a program that will encourage young people to tap their creative abilities and generate a positive anti-drug message."
"Comcast is proud of our long-standing relationship with the Partnership for a Drug-Free New Jersey," said Bill Kettleson, vice president of government affairs, Comcast. "The Shouts Down Drugs event is an innovative and electrifying way to spread the important anti-drug messages throughout our communities and among our youth."
According to the Partnership for a Drug-Free America Partnership Attitude Tracking Study (PATS) Survey, young people said they were as likely to learn about drugs and alcohol from their peers as they were from their parents, television and the internet. Added Miele, "Our research has consistently shown that young people highly influence each other's attitudes towards drugs and alcohol. What will set this program apart from other programs is instead of delivering an anti-drug message to high school students, we are allowing the students to deliver the message to one another."
New Jersey Shouts Down Drugs was originally launched as a pilot program in Hudson and Essex counties and due to the enormous success of those programs was launched statewide.

Photo and Interview Opportunities of the winners will be available by contacting the PDFNJ.

Best known for its statewide anti-drug advertising campaign, the Partnership for a Drug-Free New Jersey is a private not-for-profit coalition of professionals from the communications, corporate and government communities whose collective mission is to reduce demand for illicit drugs in New Jersey through media communication. To date, more than $50 million in broadcast time and print space has been donated to the Partnership's New Jersey campaign, making it the largest public service advertising campaign in New Jersey's history. Since its inception the Partnership has garnered over 50 Advertising and Public Relations Awards from National, Regional & Statewide Media Organizations.
###