tapinto.net: Huge Crowd Attends Opioid Abuse Discussion in Morristown
5/18/2017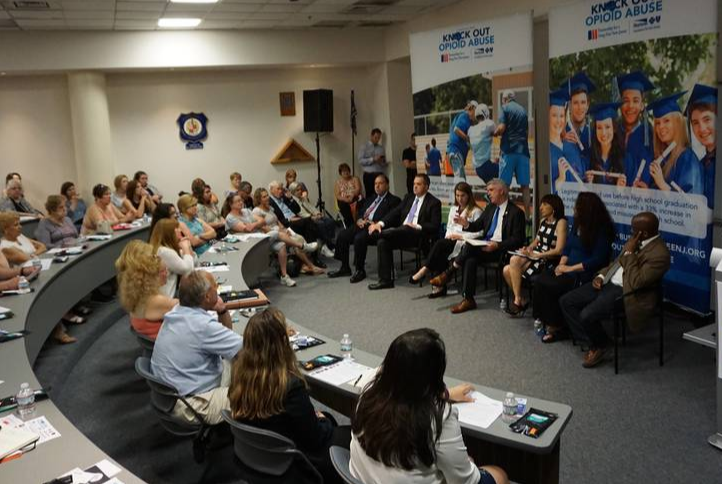 MORRISTOWN, NJ —The Knock Out Opioid Abuse Town Hall meeting drew a capacity crowd seeking to learn from a panel of experts and engage in a discussion about the opioid crisis. The event, sponsored  the Horizon Foundation for New Jersey, the Morris County Prosecutor's Office, the Morris County Sheriff's Office and the Community Coalition for a Safe & Healthy Morris, allowed Morris County residents to join the conversation surrounding the opioid epidemic.
Deaths in Morris County, caused by opioid overdoses increased from 43 in 2015 to 64 in 2016, and at least 36 such deaths have occurred so far in 2017, according to data from the Morris County Prosecutor's Office.
"No family, no community is immune," said Partnership for a Drug-Free New Jersey Executive Director Angelo Valente. "Tonight is only the beginning of the conversation. We hope that people will share the information they learned with their family and friends."
The  panel included Morris County Prosecutor Fredric M. Knapp; Morris County Chief Assistant Prosecutor Brad Seabury; Assemblyman Kevin J. Rooney, (R-Bergen) 40th Legislative District; Diane P. Calello, MD, Executive and Medical Director of the New Jersey Poison Information and Education System; Barbara Kauffman, Director of Prevention Services for Morris County Prevention Is Key; Vicky Mulligan, Organizer of the Morris County Stigma Free Committee; and Alton Robinson, a Recovery Advocate with CARES NJ.
"Having been in the field for nearly 25 years, I have heard many stories of how addiction so tragically impacts lives," Kauffman said. "Never, though, have I seen anything like the toll the opioid epidemic has taken on individuals — in all areas of the state and among people of all ethnicities, religions and socio-economic groups."
"With opioid-related deaths increasing in Morris County and across the country, it is imperative to increase public awareness of this growing epidemic," said Knapp, the county prosecutor. "The Town Hall series by the Partnership for a Drug-Free New Jersey does that by offering average citizens a chance to share their thoughts on the extent of the opioid problem and how to combat it."