Thousands Impacted by PDFNJ's Squash The Stigma Challenge
9/3/2019

FOR IMMEDIATE RELEASE: September 3, 2019
Contact: Nicolette Nappi, Media Coordinator, 973-382-4560, nicolette@drugfreenj.org
Thousands Impacted by PDFNJ's Squash The Stigma Challenge
MILLBURN— Eradicating the stigma of addiction was the goal of hundreds of participants in the Partnership for a Drug-Free New Jersey's #SquashTheStigma initiative.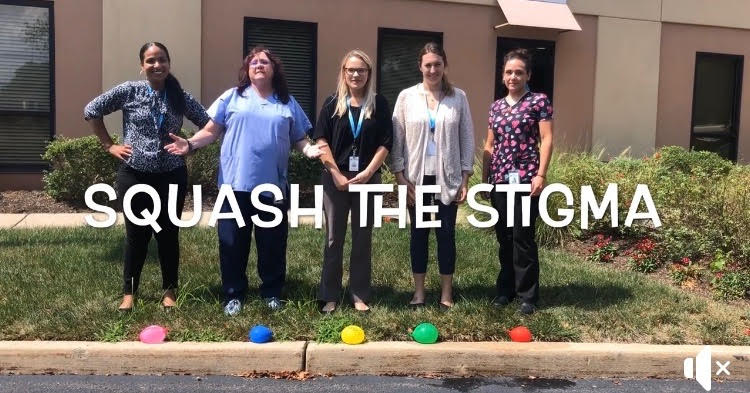 The online campaign reached over 150,000 people across the state and country, informing them of the harmful effects of stigma and the need to break through this barrier.
Hundreds of advocates participated by filling up a few balloons with water, writing stigmatizing words or beliefs on each balloon in marker, and then recording themselves squashing the balloons on the ground. In their videos, they nominated three people to complete the challenge within the next 48 hours and then posted it on Facebook, Instagram or Twitter with the hashtag #SquashTheStigma.

"Stigma is one of the greatest barriers we face when it comes to the disease of addiction." PDFNJ Executive Director Angelo Valente said. "Stigmatizing words and labels damage a person's self-esteem, their relationships with loved ones, and also prevent those suffering from substance use disorder from accessing treatment."

"If we want to resolve the addiction crisis in New Jersey we must address and eliminate this pervasive stigma," said Valente. "Doing so requires us to become more consciously aware of the language we use when we are speaking about substance use disorder and those who are affected by it."

Some examples of individuals and groups who participated in the challenge are available below:
To view more videos of people participating in the Squash The Stigma challenge, visit PDFNJ's Facebook, Instagram, and Twitter pages, or simply type the trending hashtag #SquashTheStigma on either platform.

Interview and photo opportunities are available upon request.
###
Best known for its statewide substance use prevention advertising campaign, the Partnership for a Drug-Free New Jersey is a private not-for-profit coalition of professionals from the communications, corporate and government communities whose collective mission is to reduce demand for illicit drugs in New Jersey through media communication.  To date, more than $100 million in broadcast time and print space has been donated to the Partnership's New Jersey campaign, making it the largest public service advertising campaign in New Jersey's history. Since its inception, the Partnership has garnered 180 advertising and public relations awards from national, regional and statewide media organizations.