4th Grade Folder Artwork Competition Finalists Announced!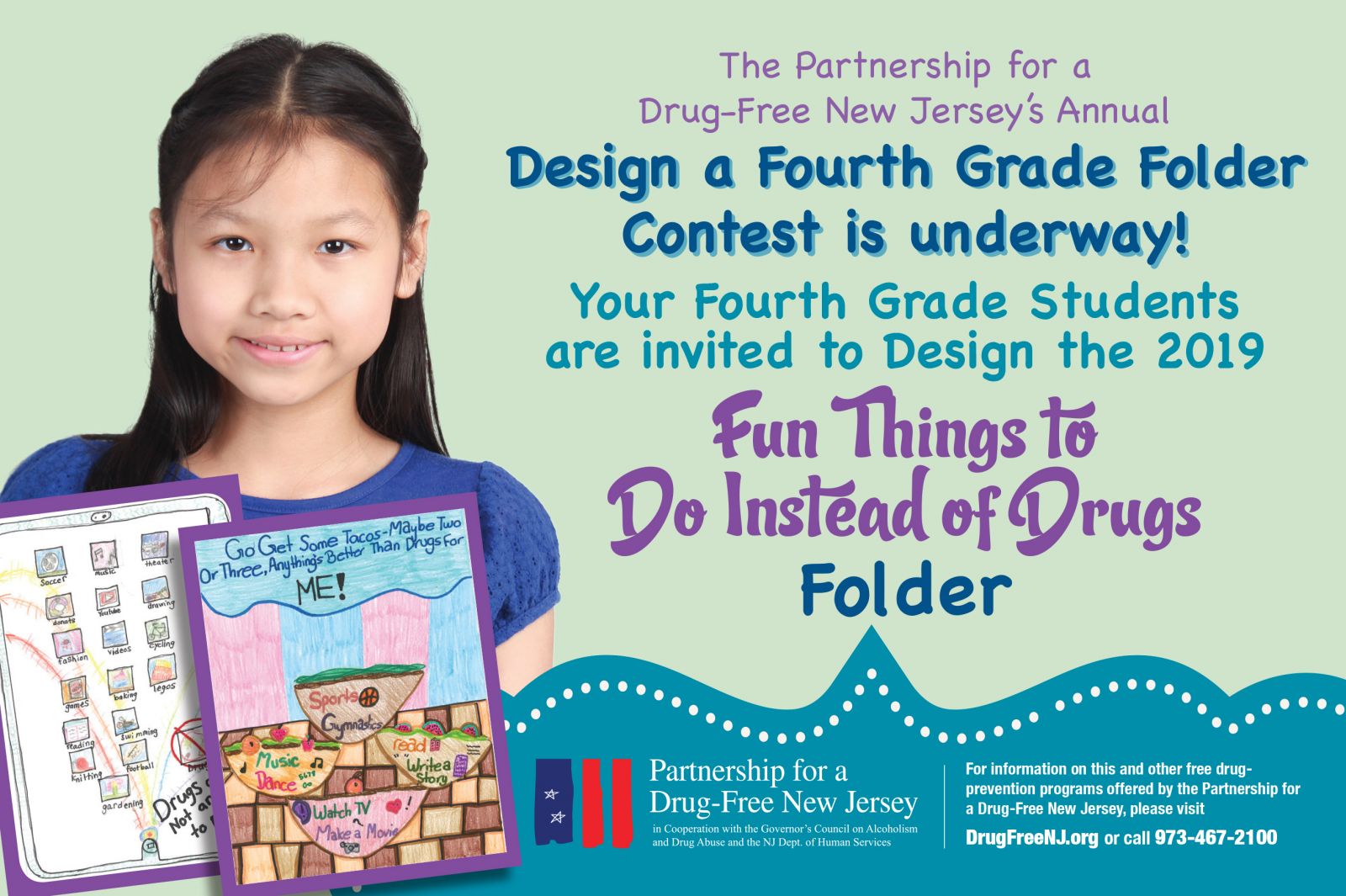 We are pleased to announce that in 2018 there were more than 3,000 artwork submissions from 140 schools. The artwork of the two grand prize winners will be featured on the 2019 Fourth Grade Folders that will be sent to all teachers who order folders for the Fall, 2019.  Each teacher will also receive a poster featuring all of the 32 Finalists' artwork.  Teachers can request the 2019 folders for their 2019-2020 students now by visiting drugfreenj.org/2019-fourth-grade
The task of selecting 32 finalists among thousands of entries is extremely difficult, and each student who spent time creating their artwork and prevention message is a winner in everyone's eyes!  Congratulations to our 2019 Grand Prize Winners whose artwork will be featured on this fall's folders:  Alysa Patel, Public School 27, Jersey City; and Ava Wittreich, Washington Elementary School, Bergenfield.
2018-2019 Fourth Grade Folder Competition Finalists
| | | |
| --- | --- | --- |
| Name | School | City |
| Gregory Berde | Ann Blanche Smith School | Hillsdale |
| Hannah Belthoff | B.F. Gibbs Elementary School | New Milford |
| Alyssa Karlis | Crim Primary School | Bridgewater |
| Serene Go | Edith A. Bogert Elem School | Upper Saddle River |
| Georgia  Sode | Harding Elementary | Kenilworth |
| Fatima Avendano | Holly Glen Elementary | Williamstown |
| Geoffrey Cancio | Hoover Elementary | Bergenfield |
| Jerremey Sembrano | Hoover Elementary | Bergenfield |
| Kristen Viray | Hoover Elementary | Bergenfield |
| Parnika Agarwal | Horace Mann School | Bayonne |
| Anvay Ajmera | James A. McDivitt | Old Bridge |
| Paloma McDonald | Lincoln Park Elementary | Lincoln Park |
| Divya Bhatia | Minue School | Carteret |
| Jaiden Freestone | Minue School | Carteret |
| Bianca Katic | Pierrpont School | Rutherford |
| Alysa Patel | Public School 27 | Jersey City |
| Sienna Webb | Raritan Valley Elementary | Hazlet |
| Tasmim Ahmed | School 27 | Paterson |
| Emilia Delgado | School 7 | Belleville |
| Lauren Falsetta | School 7 | Belleville |
| Beesan Amer | St. Elizabeth Montessori School | Parsippany |
| Nicholas Gomm | St. Joseph | Carteret |
| Addison Panikiewsky | St. Joseph | Carteret |
| Myra Pantano | St. Joseph | Carteret |
| Rhyan Vill | St. Thomas the Apostle School | Old Bridge |
| Isabella Camillo | Warren E. Sooy Jr. Elementary | Hammonton |
| Zakaria Elmazouni | Washington Elementary School | Bergenfield |
| Lucas Nunez | Washington Elementary School | Bergenfield |
| Ava Wittreich | Washington Elementary School | Bergenfield |
| Kiara Fernandez | Wilson Ave School | Newark |
| Valentina Mayorga | Wilson Ave School | Newark |
| Peyton Ramos | Wilson Ave School | Newark |