4th Grade Folder Artwork Competition Finalists Announced!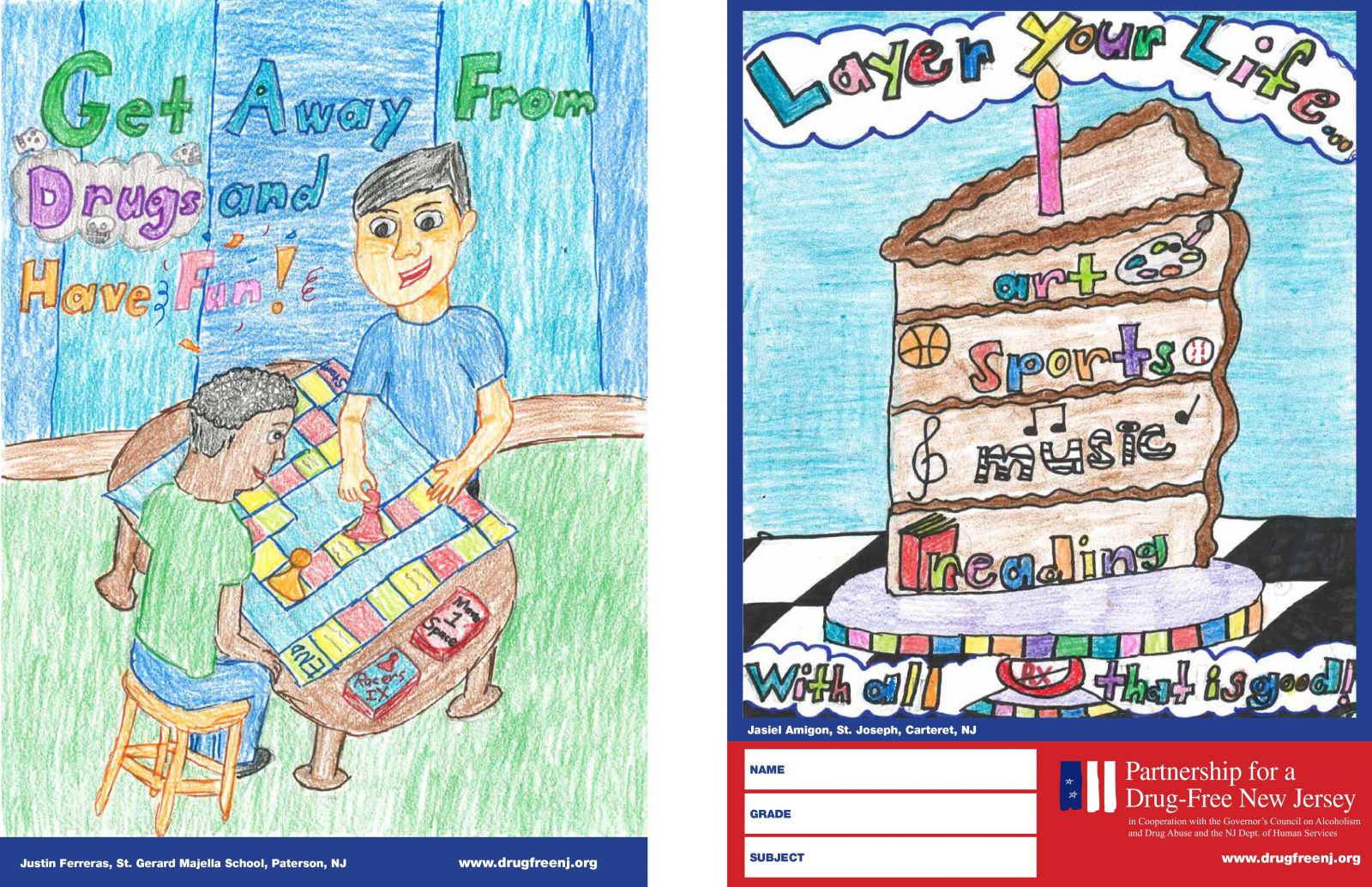 We are pleased to announce that in 2017 we had over 4200 artwork submissions from nearly 180 schools. We are pleased to enclose a list of the 32 Contest Finalists.  The Finalists' artwork will be featured in an exhibit in spring 2018.  At that time, two Grand Prize Winners will be announced, and their artwork will be featured on the 2018 Fourth Grade Folder.  The folders will be distributed in October 2018 to every fourth grade student who requests one, for the 2018-2019 school year.   You can request the 2018 folders for your students now by visiting drugfreenj.org/2018-fourth-grade
The task of selecting 32 finalists among thousands of entries is extremely difficult, and each student who spent time creating their artwork and prevention message is a winner in everyone's eyes!  
| | | | |
| --- | --- | --- | --- |
| Student F. Name | Student L. Name | School | City  |
| Stephanie | Alpar | B.F. Gibbs Elementary School | New Milford |
| Ashwika | Anand | James A. McDivitt Elementary | Old Bridge |
| Briella | Biggins | B.F. Gibbs Elementary School | New Milford |
| Lauren | Bonilla | Campbell Elementary | Metuchen |
| Kyle | C. | Hoover Elementary School | Bergenfield |
| Jennifer | Carchi | Bee Meadow School | Whippany |
| James  | Cochet | Christ the Teacher School | Fort Lee |
| Kimmie | Coscia | Hardyston Elementary School | Franklin |
| Cathleen | Dietrich | St. Leo The Great School | Lincroft |
| Valentina | F. | Hoover Elementary School | Bergenfield |
| Joseph | Gangi | St. Leo The Great School | Lincroft |
| Olivia | Golla | Eleanor Rush Intermediate School | Cinnaminson |
| Emma | Grady | B.F. Gibbs Elementary School | New Milford |
| Rachel | H. | Hoover Elementary School | Bergenfield |
| Naomi | Harris | Twin Hills Elementary School | Willingboro |
| Anya | Kaul | James A. McDivitt Elementary | Old Bridge |
| Myana | McCaskill | Twin Hills Elementary School | Willingboro |
| Ria | Mehta | Deerfield Elementary  | Short Hills |
| Omar | Naser | P.S. 28 School | Jersey City |
| Allyson | Olivera | Garfield School | Kearny |
| Annie | Onativia | Campbell Elementary | Metuchen |
| Luna | P. | Hoover Elementary School | Bergenfield |
| Amanda | Palmer | Lillian Drive School | Hazlet |
| Siya | Patel | PS #25 School | Jersey City |
| Rayhana | Redza | James A. McDivitt Elementary | Old Bridge |
| Sidney | Reiman | St. Joseph School | Carteret |
| Sadhana | Saravanan | John F. Kennedy Elementary | Wayne |
| Isabella | Smith | Twin Hills Elementary School | Willingboro |
| Raika | Stiglic | Minue School | Carteret |
| Angelina | V. | Hoover Elementary School | Bergenfield |
| Arya | Vadaliya | Lincoln Park Elementary School | Lincoln Park |
| Allison | Yodis | Eleanor Rush Intermediate School | Cinnaminson |