The Partnership for a Drug-Free New Jersey is always looking to raise awareness about the dangers of drug and alcohol abuse and misuse. Sadly, too many lives are lost each year to drug overdoses due to illicit drug use.  There have been 3,021 suspected overdoses deaths in New Jersey in 2020, and more than 70,000 lives lost nationwide.
We wanted to make you aware of recent collaboration between the United States Post Office (USPS) and the Drug Enforcement Agency (DEA) that has unveiled a new stamp to promote the battle against drug abuse and drug abuse prevention.  The Drug Free USA Forever stamp will help publicize the dangers of illicit drug use and promote drug abuse prevention. It is available to purchase for the next year.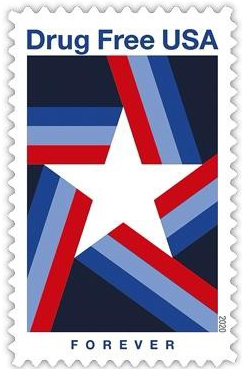 The impact of overdoses effects families and communities in New Jersey and across the country. We applaud the efforts of the USPS and the DEA in their unified efforts and their commitment to promote living a substance free life with the creation of this stamp.
Continued wishes to stay safe and well.