It is with great sadness that I have learned of the passing of Powell T. Stevenson. Powell was a loyal and dedicated member of The Partnership For A Drug Free New Jersey (PDFNJ) Advisory Board for more than 15 years, and was truly committed to establishing and maintaining drug-free workspaces in the New Jersey business community. Powell devoted his life to safety and creating drug-free communities.  He was a Safety Consultant for more than 55 years, and was an active member on safety and drug-free committees, including NSMS, ASSP, NJ State Industrial Safety Committee and JCC.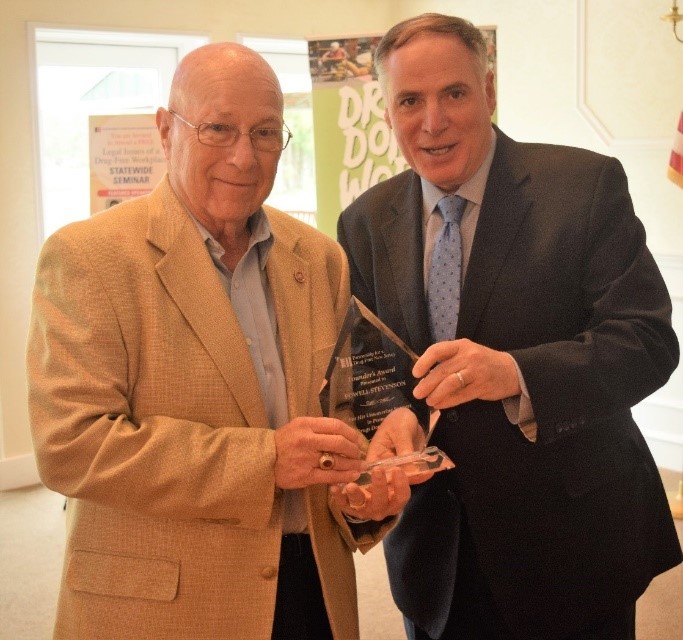 In 2018, I had the honor to present Powell with the Drugs Don't Work in NJ Founder's Award, recognizing his work and dedication to our cause of creating drug-free work spaces. All of us at PDFNJ will truly feel his loss, as well as, the guidance he has provided to the Partnership over the years. He was an integral contributor to PDFNJ's Drug's Don't Work Program that has helped and continues to help thousands of New Jersey businesses establish a drug-free and safe working environment for their employees.
I would like to express deepest condolences from myself, and all of us, at PDFNJ to his family and loved ones during this difficult time. He was a true asset to our community at large, was an inspiration to many and will be truly missed. 
Powell's obituary contains information for donations to made in his name to the FourSafety scholarship fund.