Throughout the month of August, we have turned our blog over to some of the Partnership for a Drug-Free New Jersey (PDFNJ) school-based initiative participants, so they can share their firsthand experiences with our programs.
This week we are hearing from Adam Carbone, a student who just finished first grade at Washington Elementary School in Wyckoff.  Adam shared with us his thoughts on our Silver Linings Stories Campaign that asked students to share positive stories, habits or rituals they have discovered during this time at home.
Thank you and continue to stay safe and well.
All the best,
Angelo M. Valente, Executive Director of PDFNJ
By Adam Carbone
Who suggested you write a story for the Silver Linings Campaign?
My Uncle Matt suggested that I write a Silver Linings story so I can write about coronavirus -- with all the problems and all the good things about it too. 
When they brought it up, did you think it was a good idea or were you skeptical?
I thought it was a good idea because there is so much bad stuff that happened with coronavirus and I thought it was a good idea to think about some of the good stuff too.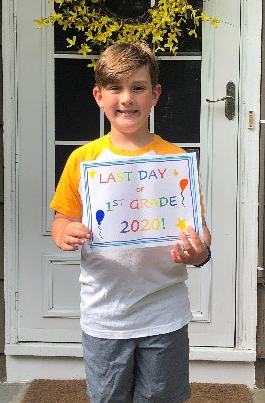 Adam Carbone
We know that it must be hard to miss out on school, events and seeing friends during the pandemic, but after writing your Silver Linings Story did it make you realize that there might be some good things about this additional time at home?
I like to be at home so I can be active and be around my family. I like playing a lot of board games at home. When we're home, we don't have to rush around so much.
Since you submitted your story are there any additional positive changes, habits, or new things you have tried that you wanted to mention?
I stay busy by entertaining myself at home and trying to work my hardest to stay healthy and active. I've gotten really good at riding my bike and rollerblading!
The Silver Linings Stories asked you to share some of your favorite moments you have found while being at home. Is there anything new you have tried that you might not have done?
I wouldn't have been able to play as many football games with my uncle if I wasn't home. I've gone on some hikes and seen outdoor places close to my house that I've never seen before. I've been able to go swimming more because there's more time to do that than there was before.
Has sharing your Silver Linings Story taught you anything about going through tough experiences?
When things get hard, try to forget about it and do something fun or something that makes you feel better. If you do that, your bad thoughts might actually go away.