Last week I visited with a third grade class in Thomas Jefferson Elementary School in Union City to hand out our Third Grade Life Choices Coloring and Activity Books.  It was a great opportunity to be able to speak with the students and hear firsthand about their experiences and understanding about the dangers of drugs, alcohol, and vaping.
I was fortunate to have been joined by Union City Commissioner, Maryury Martinetti, and Maria Spina Program Manager at the PSEG Foundation.  The Activity Books are made possible by a grant from PSEG and we are so fortunate to have them as a partner on this third grade initiative. Their presence at the school impressed on the children how important these dug and alcohol prevention messages are.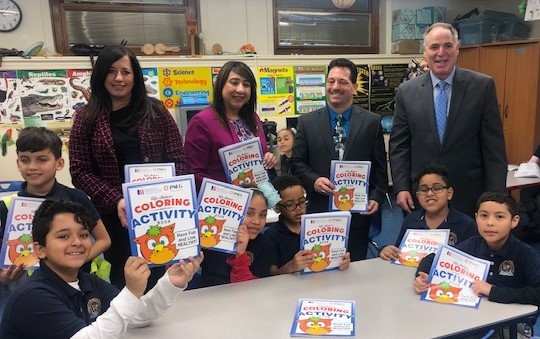 NJTV was on hand to interview the students and get their thoughts on the subject. Although these children are only nine or ten years old, they had so many insightful messages to share.  Our research at the Partnership For A Drug Free New Jersey (PDFNJ) suggests that it is never to early to talk to children about prevention messages, and the importance of living a healthy lifestyle free of substance abuse.  The Activity Books contain age-appropriate prevention materials and a contract for the children to sign committing to live a healthy lifestyle. The children are asked that a parent or caregiver and a school representative sign the contact as well to highlight the key role educators and parents play in informing our youth about the dangers of substance abuse ad misuse.
At the PDFNJ, we recognize the that family members and the educational system are as vital to the mission of this program as the students' commitment to live drug-free.  Parents and caregivers provide guidance and emotional support to steer their children towards healthier lifestyle choices, while the schools educate students on the positives of healthy living and the consequences of substance abuse.
Please visit our website to learn more about PDFNJ school-based initiatives and how we can help.