We are six months into the COVID-19 pandemic, and researchers are beginning to understand more about how vaping and smoking increases the ability of COVID-19 to spread and cause severe symptoms.
It is widely known that vaping poses significant health risks, and during the pandemic things are even more dangerous.
A recent study found that young adults who vape are five times more likely to be diagnosed with coronavirus. Researchers are starting to pinpoint the ways in which smoking and vaping seem to enhance the virus's ability to infiltrate the lungs and spark some of COVID's worst symptoms. Additionally, people who vape often share spaces and equipment with other people and cannot wear a mask when vaping.
The Partnership for a Drug-Free New Jersey (PDFNJ) unveiled a vaping campaign at the start of 2020 aimed at young people, letting them know how dangerous vaping can be. As the school year has begun, it is important to keep the lines of communication open and know the signs to look for if your child may be getting involved with substance abuse or misuse.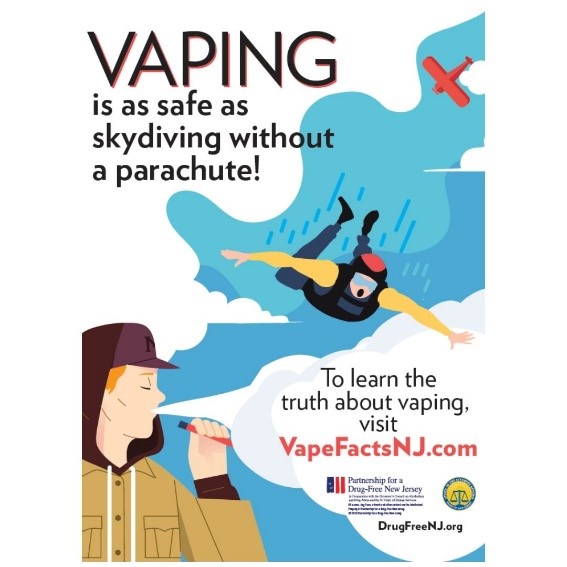 PDFNJ research has shown that parents who talk to their children for at least 15 minutes a day have children who are 67 percent less likely to experiment with drugs and alcohol. PDFNJ offers a 15 Minute Child Break presentation that delivers engaging information and tools to talk to your children about drug and alcohol abuse and misuse. Your organization can register to host a virtual "Child Break" as an interactive, 30-minute Zoom webinar or a prerecorded presentation that provides vital information on how to address these issues with your children. 
During this even more trying time, it is more important than ever that we spread the word about the dangers associated with vaping. Health care providers, parents, schools and community-based organizations should make parents, caregivers and youth aware of the connection between vaping and smoking and Coronavirus. To find out more information about vaping, please click HERE.  To register for a 15 Minute Child Break, please click HERE.
Continued wishes to stay safe and well.