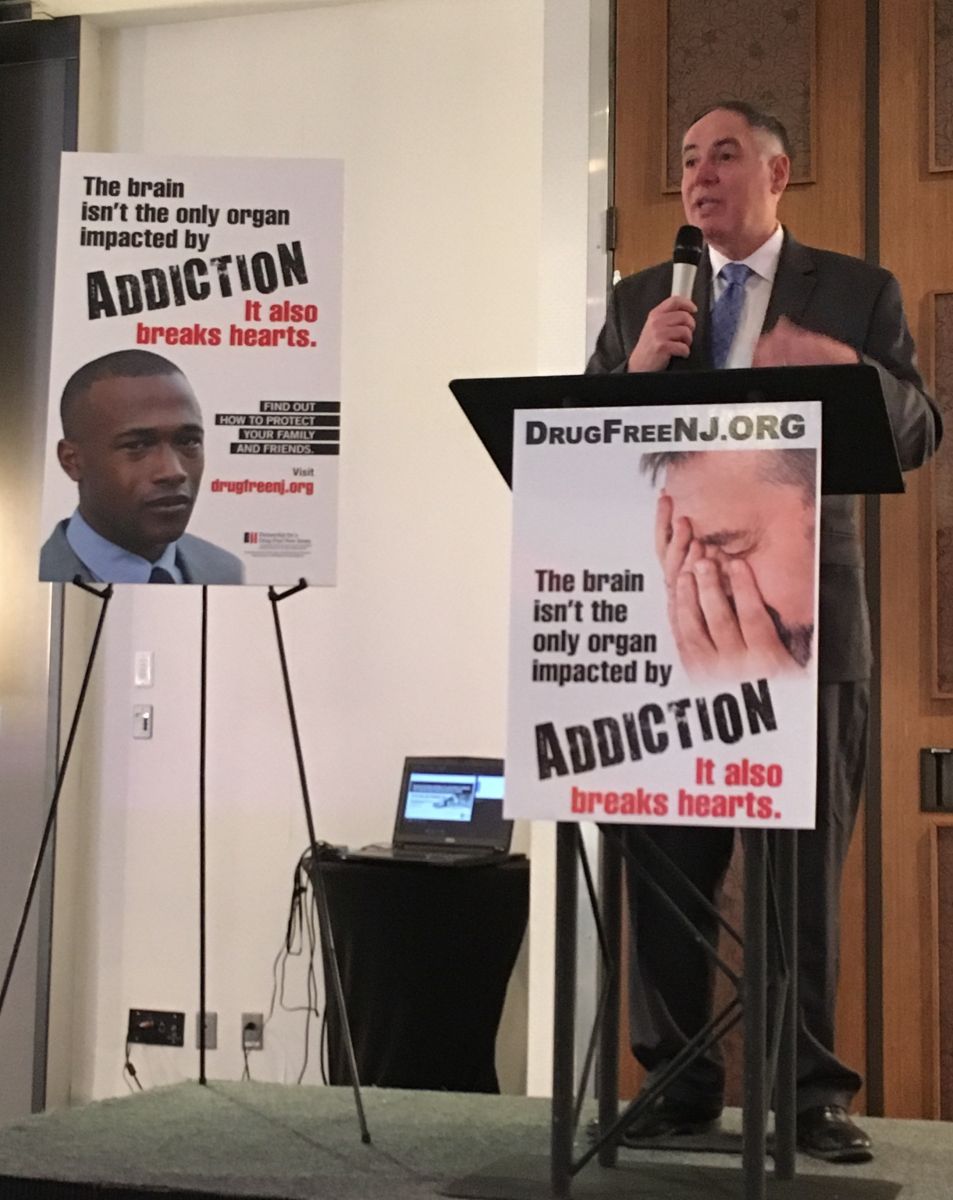 This morning, the Partnership for a Drug-Free New Jersey had the pleasure of hosting the Third Annual Breakfast for Families and Communities Impacted by Opioid Abuse at Aloft Mount Laurel Hotel.
The breakfast drew a great crowd of New Jersey residents directly affected by the opioid crisis and united advocates from several fields involved in the fight to end the epidemic. Events such as these are vital to both showing support to those who have been impacted by the disease of addiction and working together to develop solutions to the current crisis afflicting New Jersey and the nation.
Only when we come together can we begin to explore solutions to this issue.
I am so grateful to the partners of PDFNJ that participated in the program, including Special Agent Tim McMahon of the Drug Enforcement Administration – New Jersey Division and Burlington County Prosecutor Scott Coffina, who provided a law enforcement overview of the epidemic, as well as Michael Schwartz, and President of Health Solutions Network, who spoke about the role of scientific advancements in stemming the crisis.
Recovery advocates Vanessa Vitolo of Victory Bay Recovery Center, Mariel Hufnagel of the Ammon Foundation, Colleen Howard of Parent-To-Parent, Donna DeStefano of PICK Awareness and Suzanne Harrison of King's Crusade also addressed the audience. These speakers exemplified the courage it takes to overcome addiction or to have a loved one battling the disease, and their willingness to speak out about their experiences is invaluable to reducing the stigma of addiction and helping others.
I also would like to thank collaborators of the event: Parent-To-Parent, King's Crusade, Victory Bay Recovery Center, Burlington County Commission for Healthy Communities and the Community Alliance Network of Camden County. It's an honor and privilege to partner with organizations so committed to combatting the opioid epidemic.
from burlingtoncountytimes.com:
At the third annual breakfast for families impacted by the heroin and opioid crisis, officials revealed how the epidemic has become deadlier and some areas for hope.
By Kelly Kultys
MOUNT LAUREL — The heroin and opioid epidemic has become deadlier over the past few years, but officials are hopeful that new ideas, initiatives and movements will address it going forward.
That was the main message presented Wednesday at the Partnership for a Drug-Free New Jersey's Breakfast for Families and Communities Impacted by Opioid Abuse, held at the Aloft hotel.
"First and foremost, it's a message of hope," said Angelo Valente, executive director of the partnership, about the event and its speakers. "We're breaking down the stigma."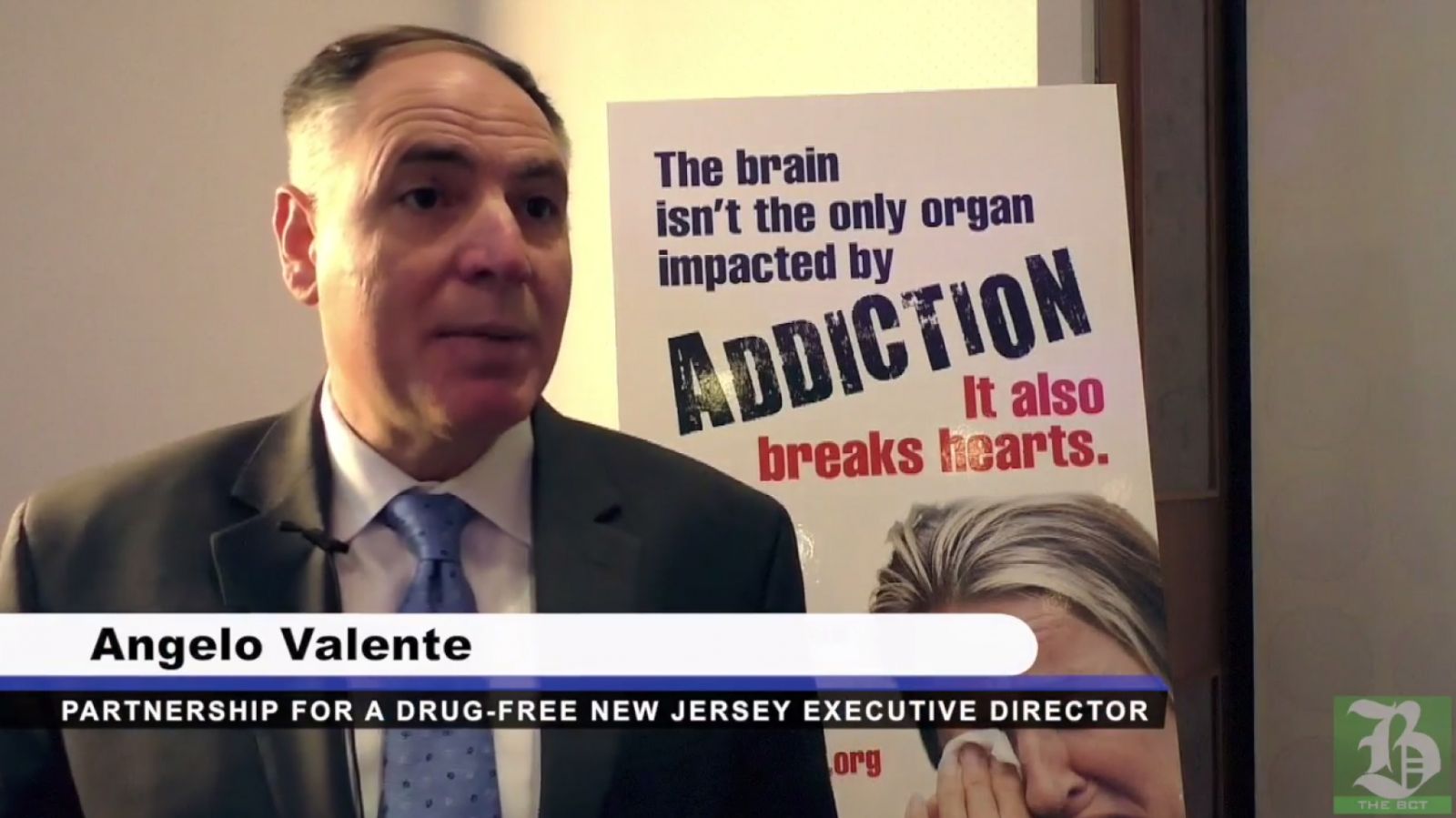 Valente cited recent legislative victories, such as the prescription monitoring program and the bills that passed in the Senate and Assembly in February 2017. The legislation requires that insurers regulated by New Jersey cover the first six months of inpatient or outpatient treatment for substance abuse, and also the use of outpatient prescription drugs for treatment. It also would limit the initial dose of opioid painkillers that doctors can prescribe to a five-day supply, and mandate that doctors have "clear and direct discussions" with patients and parents about the risk of opioid addiction.
Valente said other states are adopting similar legislation.
Over 100 people, many of whom have been directly impacted by the crisis, gathered to hear from local officials about the work being done in Burlington County to address the issue, as well as from the federal level, with the Drug Enforcement Administration launching its own efforts here.
Despite the extra attention, Burlington County Prosecutor Scott Coffina warned that the epidemic is becoming more and more deadly. In previous epidemics, such as crack cocaine and methamphetamine in 1980s and 1990s, users often overdosed from taking too much of the substance.
"Now, more often, they are just running into a bad batch," Coffina said.
In Burlington County, Coffina said there were 141 drug overdose deaths in 2017, up from 83 the year before. Law enforcement officials and paramedics used naloxone, an opioid overdose reversal, over 900 times last year.
"We could have approached 1,000 overdose deaths in our county" without the use of naloxone, also known as Narcan, he said.
Coffina said "the rising death toll" has also made the Burlington County Prosecutor's Office rethink its Gang, Gun and Narcotics Task Force to better use its resources in taking down drug dealers and in prosecuting individuals under the strict-liability-for-a-drug-induced-death law, which allows law enforcement to pursue homicide charges if a person overdoses and dies from a dealer's batch of drugs.
Other agencies like the DEA have also turned their attention to the region. Earlier this year, the DEA announced the start of its 360 strategy, which includes enforcement, diversion and community outreach.
″(The epidemic) is like something we've never seen before," Special Agent Timothy McMahon said, citing its effect on communities from coast to coast.
Valente said efforts to combat the crisis have become focused on prevention and helping people already affected by it.
"People need to get assistance in the form of treatment," he said. "There are resources available, whether that's (inpatient) or outpatient facilities that are available, and we need to be able to get people into long-term recovery."
Despite the increased deadliness of the drugs on the street, some at the breakfast, like Colleen Howard, of Parent to-Parent, a nonprofit in Evesham, were optimistic that people are paying attention to the crisis and finding ways to treat it.
"We're bringing more families to the realization that we're not alone," she said.
Howard lost her son to addiction nine years ago and said her family didn't know where to go or what to do.
"We just hid it behind closed doors all the time," she said. "I didn't know what to do."
Parent to Parent, which is celebrating its 20th anniversary this year, educates the community about addiction, advocates for those affected by it, supports those who are struggling, and provides assistance to get people into treatment and sober living.
Howard said she's been working with the organization for over two years and said the need for help has not gone away. The group often fields at least 20 calls for help every day.
"We're dealing (with this epidemic) in the trenches," she said.