We are just THREE DAYS AWAY from the fourth annual Knock Out Opioid Abuse Day in New Jersey.
On Sunday, October 6 individuals all throughout the state will embark on a crucial prevention initiative, spreading awareness and education within their communities about the risks posed by prescription painkillers and their link to heroin use.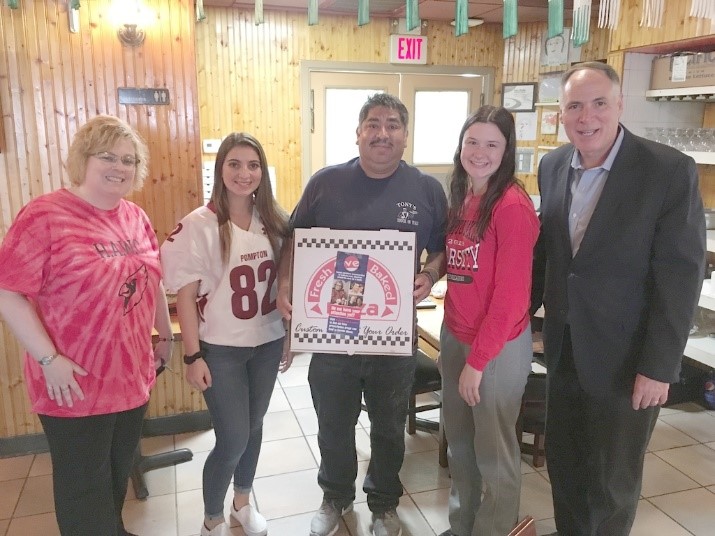 Recently signed into law by Governor Phil Murphy, Knock Out Opioid Abuse Day is a single-day statewide event held annually on October 6. It is a day when thousands of volunteers, including law enforcement, prevention and treatment specialists, medical professionals, parents and several other concerned New Jersey residents and advocates canvas their neighborhoods distributing informative materials that highlight the addictive potential of opioids and safe-prescribing practices.
Teams of volunteers throughout the state distribute prescriber guides to their local physicians and place informative door hangers on the front doors of homes throughout their neighborhood, inside of schools, throughout apartment buildings, in their place of work, inside of grocery bags—just about anywhere people are bound to see them. In previous years, individuals have encouraged their local pizzerias to participate in Knock Out Opioid Abuse Day by placing them on top of pizza boxes.
We encourage our volunteers to find new and creative ways to get these important messages out in the community for all to see.
If you are interested in getting materials and volunteering within your community, you can sign up here or call our office at 973-467-2100.
You can also help spread awareness on social media by sharing images of your Knock Out Opioid Abuse Day materials or events with your friends! Don't forget to include the hashtag #KnockOutOpioidAbuse and tag us @DrugFreeNJ!
Thank you for all of your support and efforts in helping to #KnockOutOpioidAbuse in New Jersey!
Engaging Youth to Knock Out Opioid Abuse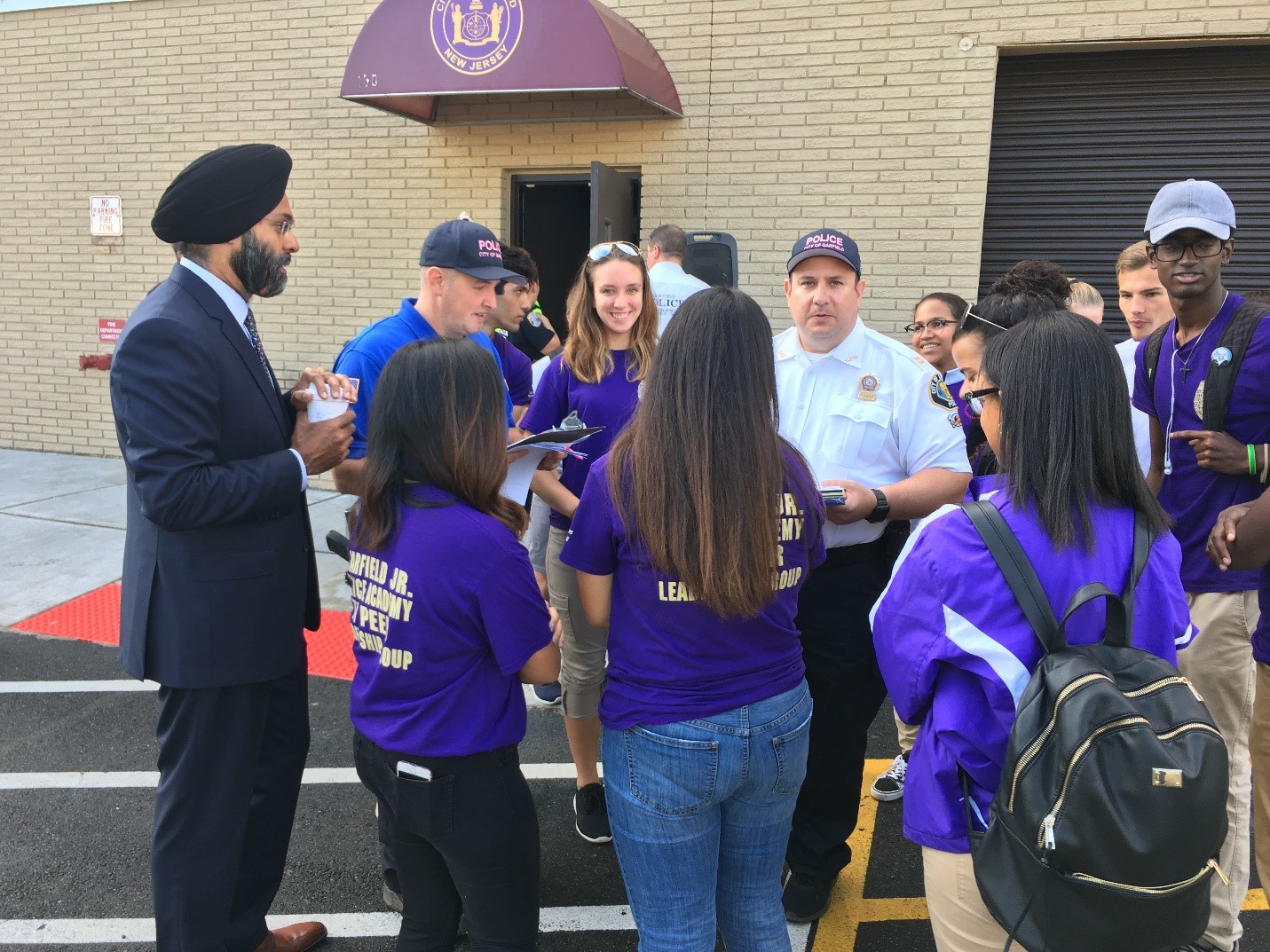 The Garfield Police Department participated in Knock Out Opioid Abuse Day for the first time in 2017 and employed a community approach to get the word out about the dangers of prescription opioids and their link to heroin use. The department partnered with the Garfield Prevention Coalition, the mayor and city council, and former Bergen County Prosecutor and current New Jersey State Attorney General Gurbir Grewal to hold a ceremony the morning of Knock out Opioid Abuse Day before canvassing the street with materials. Students from the high school's EPIC program delivered the information throughout the city, while police officers performed a three-part canvass approach by distributing materials in known drug areas, prescriber guides to doctors' offices and pharmacy bags to pharmacies in the city. Law enforcement can play a big part in spreading the message to Knock Out Opioid Abuse!
Score Big with Sports Outreach Efforts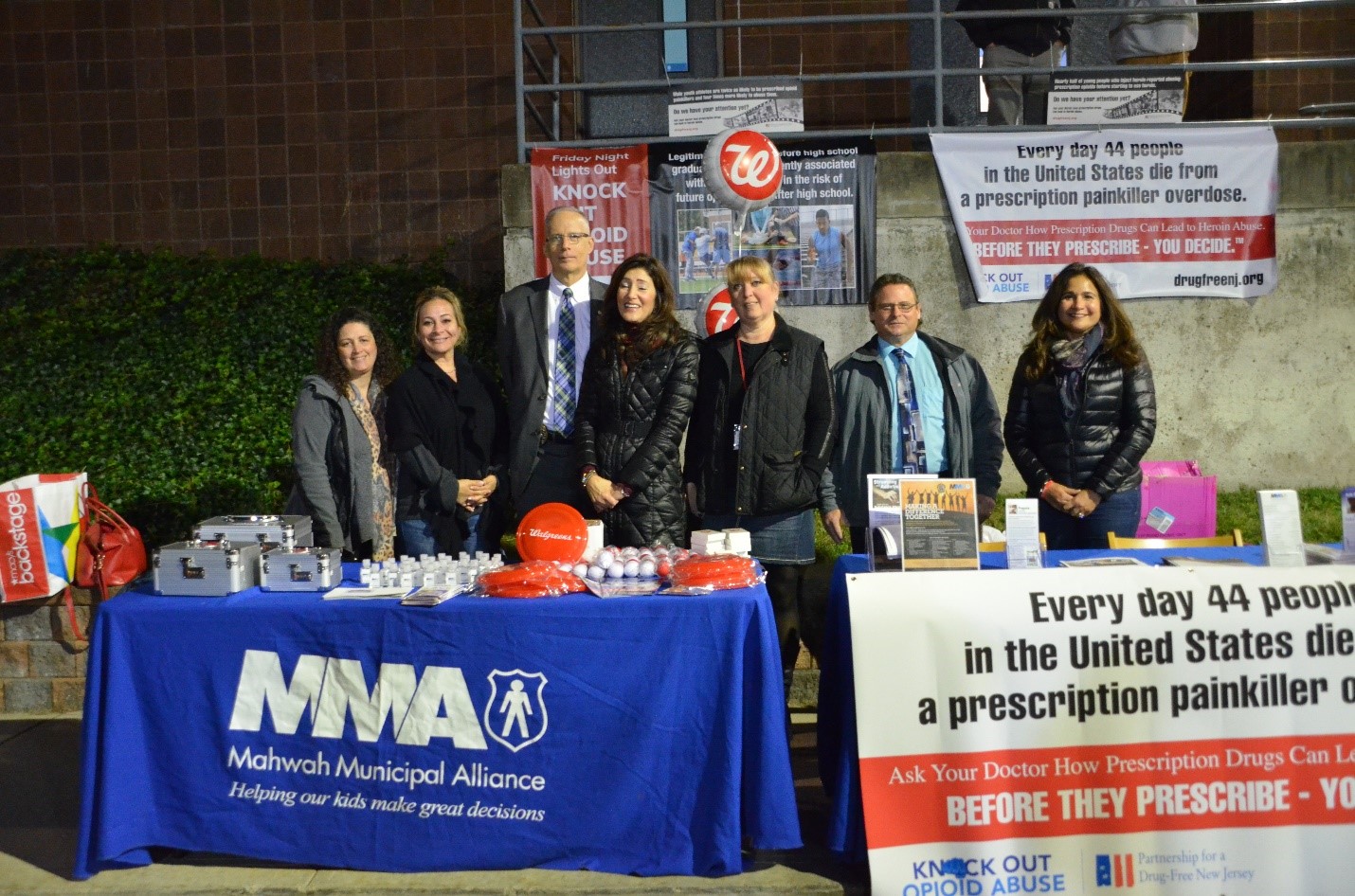 Last year in Bergen County, volunteers Marge D'anna and Pam Coles helped to bring the message of Knock Out Opioid Abuse Day to schools, specifically high school athletes and their parents, coaches and spectators. More than a dozen teams incorporated Knock Out Opioid Abuse Day into one of their October home football games by handing out door hangers and other materials, including Knock Out Opioid Abuse wristbands. These efforts helped to bring vital information on the dangers of prescription opioids to a vulnerable population: high school athletes, who are more likely to be prescribed opioids after suffering sports-related injuries. For 2018, Marge and Pam have worked to bring the program to even more schools for football and other sports. Reach out to your schools and local athletic organizations to get them involved in Knock Out Opioid Abuse Day!
Local Businesses Can Deliver Prevention Messages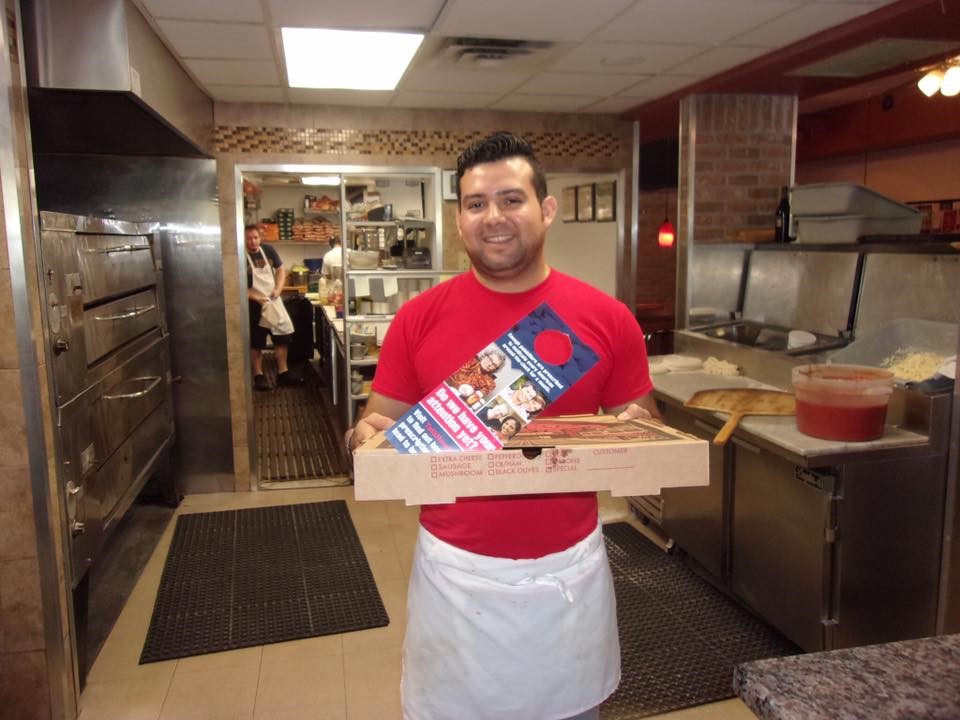 Last year, volunteers delivered potentially lifesaving information about the risks of prescription opioids to New Jersey residents in many creative ways. Volunteers in Sussex County thought outside the box, literally. They met with pizzeria owners throughout the county, asking them to place door hangers on the outside of their pizza boxes. Several businesses obliged and helped to bring this vital information into more homes.
Local Leaders to Help Spread the KOOAD Message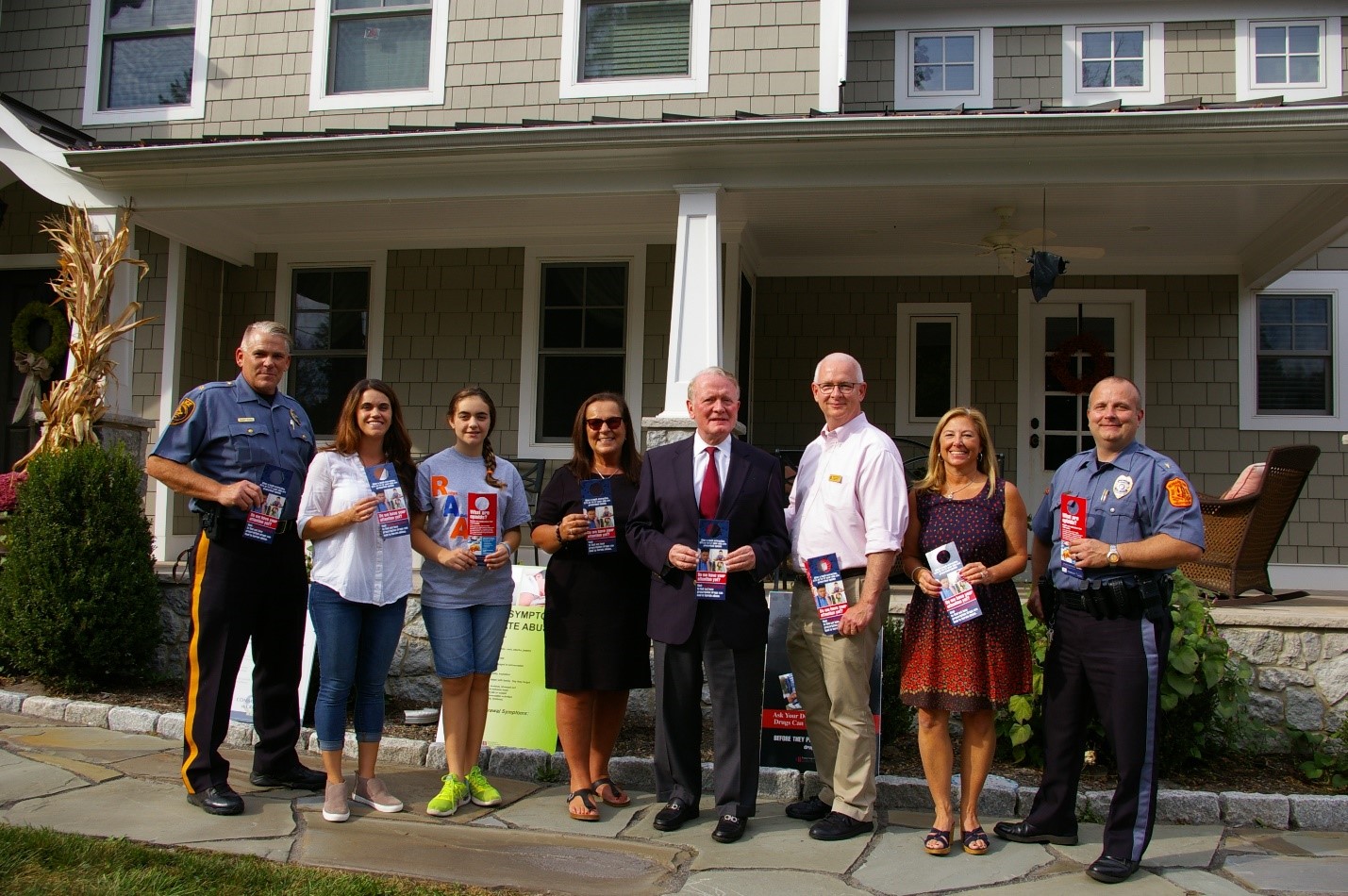 In 2017, Community in Crisis of Somerset County helped organize several volunteer activities to spread the message of Knock Out Opioid Abuse Day. Organizers contacted United States Congressman Leonard Lance, who helped scouts and local officials deliver door hangers to homes in a Somerset County neighborhood and held a press event. Community in Crisis also teamed with Ridge Against Alcohol and Drugs students to hang the materials from every classroom door at Ridge High School for back to school night. The organization expanded its reach by putting handouts on cars in commuter parking lots and asking dry cleaner businesses to distribute them on hangers. There are many ways you can spread the message to Knock Out Opioid Abuse!
Police and Schools Are Great Partners to Knock Out Opioid Abuse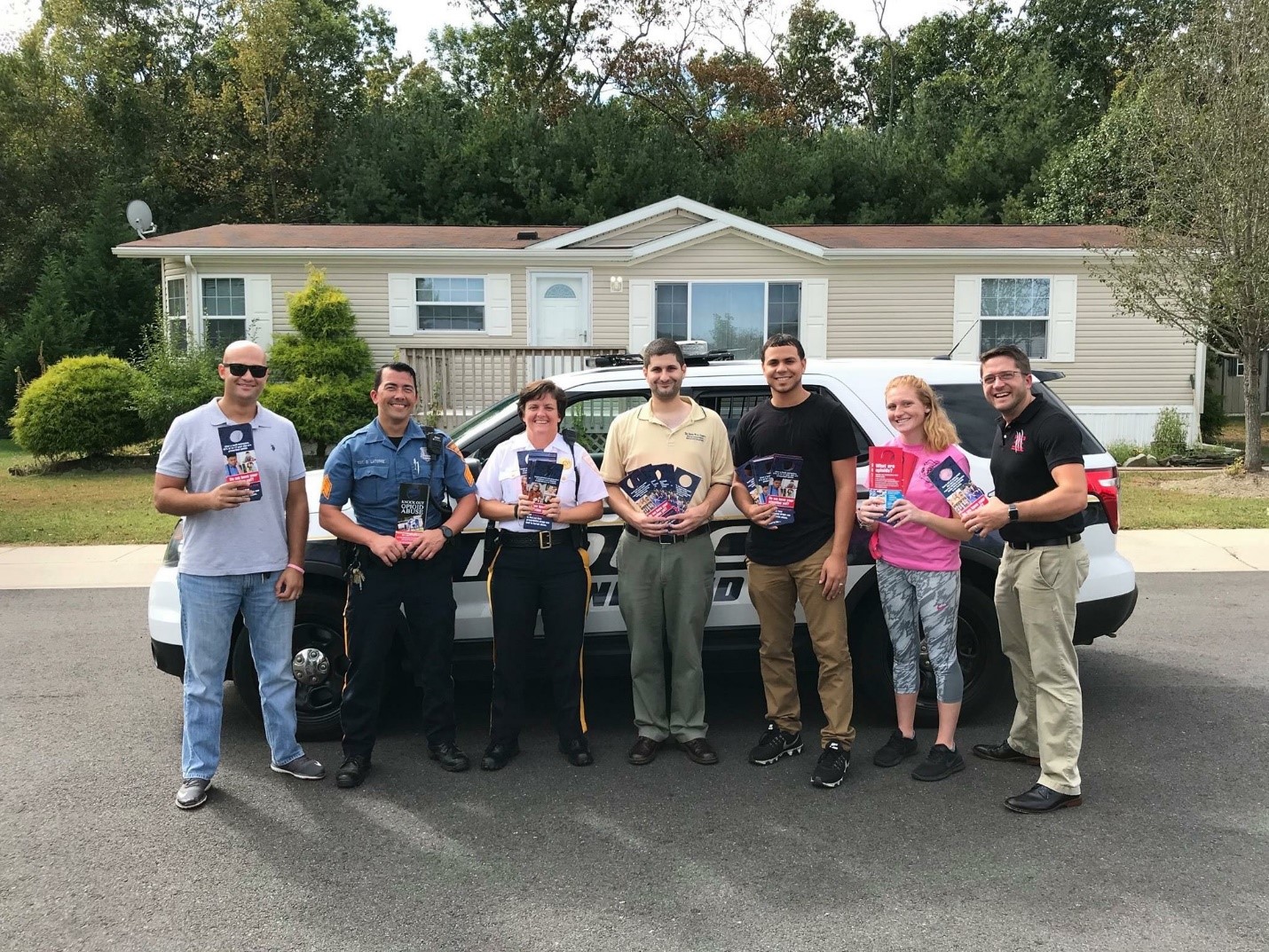 Distributing information about the risks of prescription opioids can seem daunting if you have to do it all by yourself. That's why it's important to consider recruiting other groups and organizations to be a part of Knock Out Opioid Abuse Day to help share the message. Volunteers from the Southwest Council in Gloucester, Salem and Cumberland counties did just that during the 2017 event. They contacted school counselors to offer door hangers and posters that could be displayed throughout the schools in the area in the weeks leading up to Knock Out Opioid Abuse Day. They also relied on local police departments to distribute materials in their municipalities. Communicate with schools and law enforcement to help share prevention messages on Knock Out Opioid Abuse Day!